Camping in the desert. In Morocco, you will find plenty of luxurious desert camps. In the Sahara, but certainly do not forget the Agafay desert. We will assist you in choosing some. 
Desert glamping
The desert of Morocco has, next to endless kilometers of sand, quite a few camps where you can go for a unique desert experience. Desert camping is happening. Or rather desert glamping, because there is no shortage of luxury in the Sahara or Agafay. Don't worry you have to set up your own tent, don't worry you have to do anything at all.
And although in the end all of them are in the same awe-inspiring sandbox: one desert camp is not the other. We separated the men from the boys. Three camps in the Moroccan desert that are more than worth it. All against the elegant and simple backdrop of a desert, all with a well-filled dinner tent, all with poetic lighting (lanterns, torches, everything) and some with a swimming pool. With… Swimming pool. Sand-biting has never been so much fun.
Desert camps in Morocco
Umnya Dune Camp, Sahara
The desert is a natural extension of the inner silence of the body,' is wisely put into words on the website of Umnya Dune Camp. This camp is built out of love for the desert and nomadic existence. The nomads at your service will help you relax between rolling dunes and the omnipresent sand.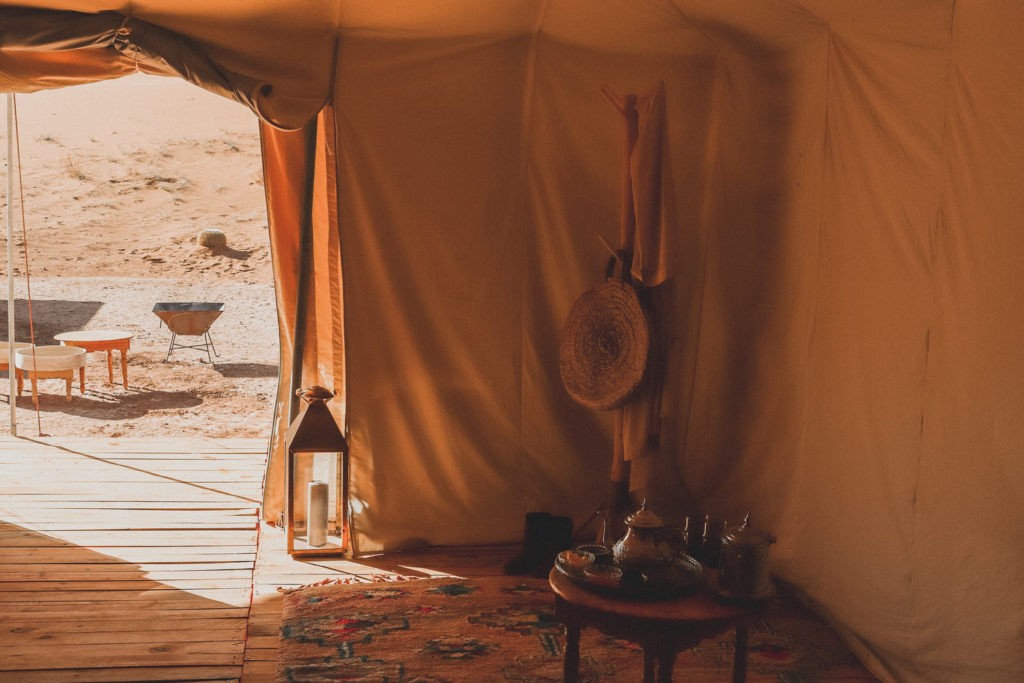 Shake off all the hustle and stress as you watch the sun go down and change color like a magic ball. Stare into the night and find one of the greatest gifts the desert has to offer: darkness you will only find in such isolation.
The luxurious 4×4 Jeep Wrangler shuttle service will make sure you get there – it actually is the only way to get to the camp in Erg Chegaga (an hour and a half from Mhamid El Ghizlane). Once there, you can go sandboarding, do some yoga, go hiking with nomads, stargaze with an expert ('Welcome to the world's best place to look up'), go belly-dancing, ride a camel, dine super-luxuriously and cry of happiness. You don't have to be bored, so to speak. The tents where you can sleep in, are separated by sand dunes, which is called: complete privacy, you even have your own campfire.
Umnya Dune Camp | Sahara Desert | Book Umnuya Dune Camp
Scarabeo Camp, Agafay
35 kilometers from Marrakech you will find the rocky desert of Agafay, at the foot of the Atlas Mountains. Not a desert like you're probably used to, with sand. Agafay is a stone desert and therefore filled with stone. An extra-terrestrial beautiful landscape (overlooking the snowy peaks of Atlas) that becomes even more breath-taking under a starry sky. Scarabeo Camp built a camp here with all modern conveniences.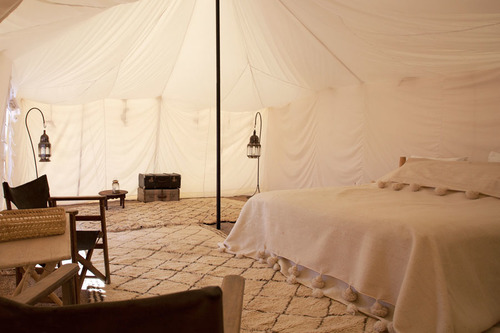 All conveniences listed: tents of a comfortable 50m2 with queen size beds, an ensuite bathroom tent with toilet and private terrace. And for those who all of a sudden feel like writing a book? That's possible, at your own wooden desk, completely à la Hemingway. Dining happens by candlelight, in the beautifully decorated dining tent.
Scarabeo Camp | Agafay desert | Book Scarabeo Camp
Inara Camp, Agafay
Another Agafay camp to write home about. Inara Camp has a bio-inspired swimming pool that is built and maintained as environmentally friendly as a swimming pool allows. They refer to their swimming pool as a 'lagoon' and rightly mention the beautiful views you have over the Agafay Desert once you are in the heated water.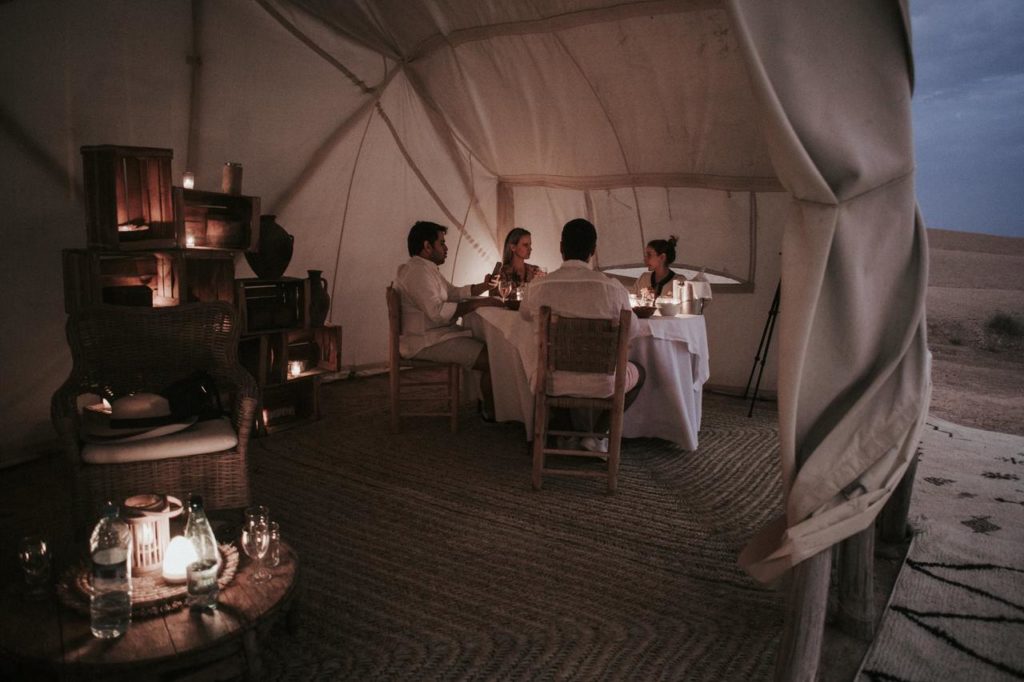 Guaranteed is a sunset like you've never seen before. As for food: Inara has several tents where you can have breakfast, lunch and dinner, so nothing to worry about. The tents for sleeping are fully equipped with all the comforts plus electricity.
Inara Camp | Agafay desert | Book Inara Camp
Read more about travelling in Morocco: let's discover the best hammams in Marrakech.