The African penguin, also known as the black-footed penguin, only lives on twenty-eight locations in South Africa and Namibia: one of the best-known places to have a closer look at these little winged friends is Boulders Beach in Cape Town.
Boulders Beach
At the foot of impressive villas and between gigantic granite rocks, penguins settled in 1980. Boulders Beach is located in Simon's Town, which is a half-hour drive south of Cape Town and is part of Table Mountain National Park. After paying the entrance fee (R75 for adults, R40 for children) you will be guided to the Boulder Visitor Centre on Foxy Beach by a wooden deck. The view alone already makes the walk worthwhile.
Endangered species
The destination itself is very touristy: just like the penguins, the tourists are not far from tumbling over each other for the ultimate photo. What especially makes it worth visiting the Visitor Centre is the information about the endearing creature. It is not entirely unnecessarily to mention: the African penguin is becoming extinct. Once upon a time, there were millions – compared to the number of penguins in 1900 there is only one per cent left. While in 1956 the population consisted of 150.000 penguin couples, in 2015 there were only 25.000. Since 2004, the number of jackass or black-footed penguins is decreasing again and by now the African penguin is on the list of endangered species (the Red List of the International Union for the Conservation of Nature (IUCN)).
The African penguin; on a path to extinction
The African penguin is on the way to extinction due to a combination of factors. The human disturbance of breeding places is one of them. Just like collecting their eggs, which is now illegal. The latter in particular has had an enormous impact historically: between 1900 and 1930 no less than thirteen million eggs were removed for commercial reasons. Final score in 1960? 300,000 African penguins left. 
Oil pollution
Chronic oil pollution and incidental oil spills are also seen as serious threats. Both seem to have significant long-term consequences for penguin colonies, which are often located in the immediate surroundings of major ports.
Food shortage
Nowadays, penguins mainly suffer from food shortages. Schools of sardines and anchovies are leaving their habitat due to climate change and for the remaining food, the penguins are in direct competition with the industrial fishing industry. Another problem is the extinction of the white shark. They eat sea lions, which in turn eat penguins. However, the number of sharks is decreasing and, therefore, the number of sea lions is increasing. Direct consequence? More penguins disappear.
Swimming with penguins
Remember this when you enjoy the ultimate photo experience: swimming with penguins! Boulders Beach is located on the Indian Ocean, which – unlike the Atlantic Ocean – has pleasant water temperature. The white, fine sand, warm water and impressive rock formations make Boulders Beach one of the finest beaches in Cape Town. The penguins are so used to people that they are not surprised when they join them in the water. However, keep the above in mind and take responsible measures: don't pet or feed the animals and keep an appropriate distance. They may be used to humans, but that doesn't mean they are domesticated pets.
Protecting black-footed penguins?
Do you want to protect the black-footed penguin? BirdLife South Africa is committed to many endangered bird species, including our beautiful African friends. Donate now or on location and share this article to raise awareness.
Or watch Penguin Town on Netflix
In Penguin Town – or Simon's Town, as described above – an eclectic group of endangered penguins flock together to find mates, raise families and mix with the locals. You can follow them in Netflix documentary series Penguin Town.
Watch Penguin Town Trailer:
Like it? Pin it!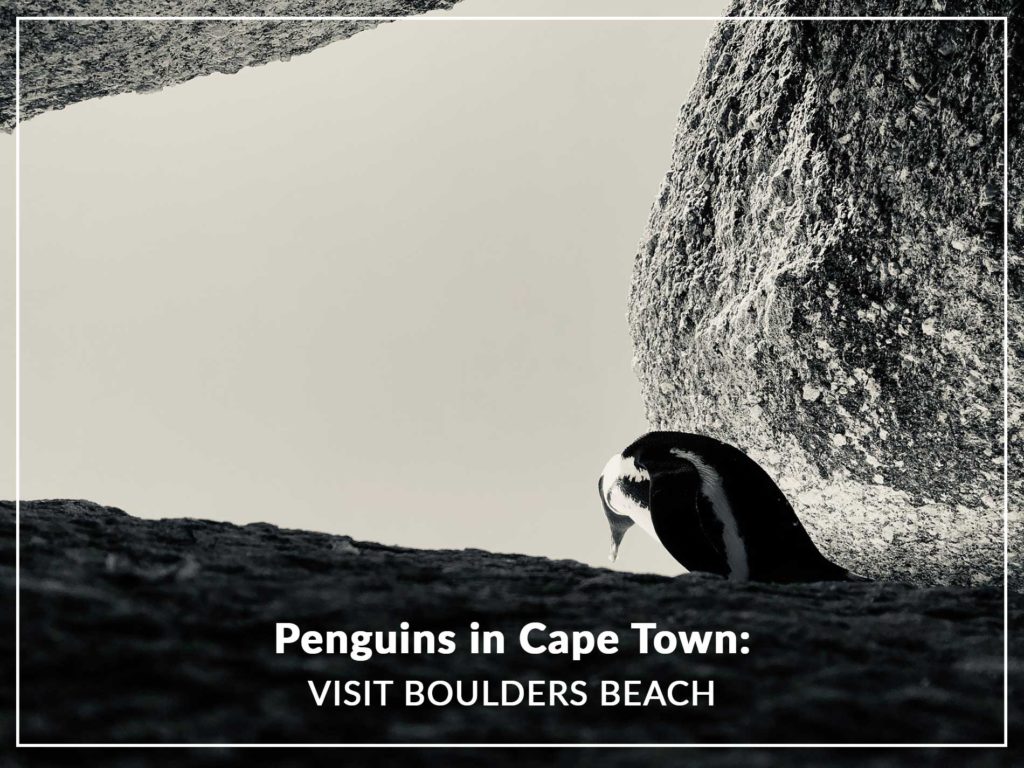 Practical information Boulders Beach
Entrance:
R75 for adults, R40 for children (two to eleven years)
Parking at Boulders Beach:
There is a large parking lot with security.
Best travel time of the year:
Throughout the year.
Or book right away: