Well, there it is: the Reims F406 Caravan II. A small airplane with two propellers that will transport us from Windhoek to Swakopmund. Fly Namibia recently has a new flight route and Explore Africa is allowed to test a part of this Safari Circuit.
Safari Circuit
Namibia is famous for its never-ending horizons. Getting from A to B can easily take several hours. This is favorable because it offers a feeling of freedom, but it could be detrimental if your time is limited. Up until recently, you had two choices to bridge all those distances: driving a rental car or booking a private flight. With the safari circuit of Fly Namibia, part of Westair Aviation, this has changed. Fly Namibia flies daily from Windhoek to Sossusvlei, Swakopmund and Etosha National Park.
Windhoek to Sossusvlei and Swakopmund
We check-in at Eros, a small airport in Windhoek for regional flights. "Please take your seat," says the desk employee. "The pilot will be right with you." Moments later, we are picked up by Wayne.
After a short safety briefing, we board the plane. The small plane can only hold 12 passengers, so it feels like a private jet. We are seated directly behind the pilot and are able to marvel at his flying skills. After a last round of inspections, Wayne takes his seat as well. We move to the beginning of the runway. He gives us a thumbs-up: everybody OK? We are. The propellers turn up to full speed, we pick up speed and after a few bumps we are suddenly airborne. We are flying at 10,000 feet, and have a good view of the changing landscape below us. We soon leave Windhoek behind and see the mountain landscape slowly transform into the endless series of dunes of Sossusvlei. In our opinion, this cannot last long enough!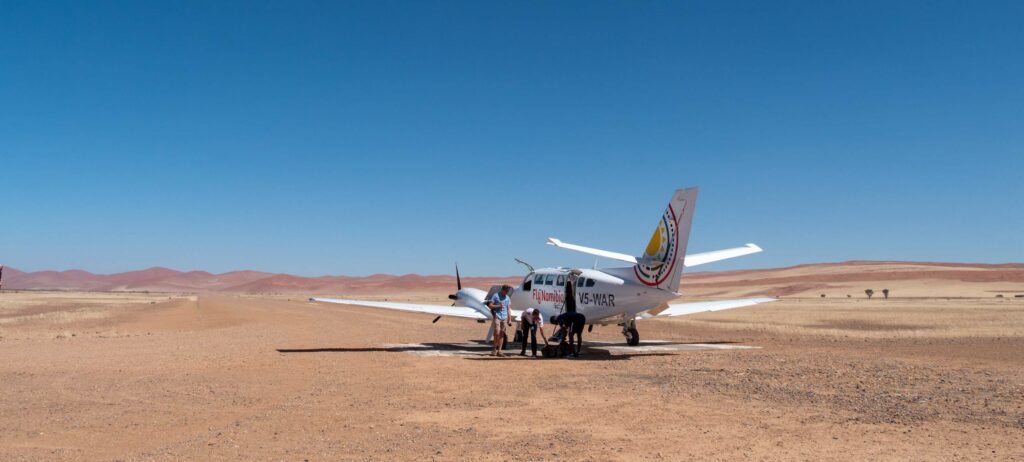 After only half an hour, the pilot announces that we are about to land: in the middle of the Namib Desert, a line in the sand appears. It is the airstrip where Wayne lands the plane. Later I ask him whether that's difficult. A gravel airstrip like that? Wayne is used to it. "The runway is long and wide, which makes it pretty easy." He says. Fly Namibia is the only airline licensed to land here. Next to the runway, a single jeep is waiting. We pick up some passengers to continue our flight to Swakopmund.
Once the luggage is collected and everyone takes their seats, we fly over the Sossusvlei dunes to Swakopmund. It is one of the four places in the world where the desert reaches the ocean. From the air, you have a first-class view. In a tight turn, Wayne heads for the airport in Swakop and shortly afterward lands the plane. In forty minutes, we have just covered a distance that would take four hours by car.
Book your flight directly via the Fly Namibia Safari website or as part of your tour of Namibia with About Africa Safaris. For international travelers, it is important to know that you are allowed to take 15 kilograms, including carry-on baggage. The luggage is stored in the fuselage of the plane and the wings, so space is somewhat limited. Extra luggage can be booked for 50 Namibian dollars per kilo.