All too often African fashion has been (and still is) considered a somewhat exotic afterthought.
When Nigeria comes to mind and your darling source is the news, chances are you know more about a certain terrorist organization that cripples parts of the country than, let's say, Lagos Fashion Week. Be that as it may, fashion from Nigeria is gaining ground. Globally. Or rather I should say: fashion from Africa is gaining ground and Nigeria is its crown jewel.
Fashion from Africa, for quite a few movers and shakers in the fashion industry the rising star you do not wish to ignore. For a continent that once approached clothes as something tribal, building a contemporary fashion image is a challenge, but African fashion is booming. The clothes are a moveable feast. Playful, fresh, colorful. Touches of whimsy elevate them above the ordinary. It's a breath of fresh air in a world often wrapped up in tweed, plaid and oversized and deconstructed garments of labels such as Vetements. It's exciting. Something new under the sun.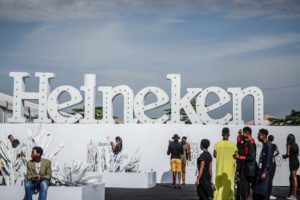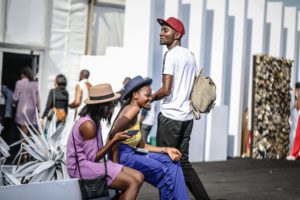 Heading to Lagos Fashion Week, Nigeria 
Omoyemi Akerele is the founding mother of Lagos Fashion Week. She walked out on her law career to focus on positioning and growing the fashion industry in Nigeria. Eight years fast forward Lagos Fashion Week is one of the biggest fashion events on the continent with reputable African designers showing and reputable international fashion journalists attending – looking at you, Suzy Menkes, and you, Tamu McPherson, and you, Liam Freeman.
We headed to Lagos, Nigeria, too, to attend fashion week. We talked with designers, with influencers and learned some ground rules of the fashion scene in Africa. In Lagos, you really are only as impressive as your last appearance. As for the appearance: go big or go home. I got two pieces of advice while in Lagos. One: 'Your clothes are boring, you should wear more color.' Two: 'This outfit is too Western, you should wear more color.'
So. There I was, sitting in the car with my cheerful driver Hillary, in my not so cheerful uniform, heading to the fashion week venue. What was supposed to be a ride of fifteen minutes, took us an hour, or maybe two. First, Hillary lost track – Lagos is an enormous concrete jungle with chaotically choked roads where helpful road signs ray in absence. Second, we hit a proper Lagosian traffic jam, long and unrelenting. Lucky me fashion week started five hours late due to failing electricity.
Africa, shaping fashion's future?
Fashion Weeks' tagline quotes 'Africa – Shaping Fashion's Future'. They could be right; the potential is definitely there. Though a lot needs to be done. One could think of investing more in infrastructure, in reliable electricity, in clothing factories so that designers are able to produce on a larger scale to live up to the demands of (international) buyers.
Designer Lisa Folawiyo told me once: 'I've been designing for about thirteen, fourteen years and as the years passed by there have been a lot of talented designers who are breaking out with really cool ideas. They are taking our traditions, but making it modern, with a certain appeal the whole world reacts to.' Folawiyo herself has successfully transformed the iconic West African cloth Ankara through the use of ornate embellishment with which she created contemporary garments for the contemporary woman. Her clothes have been stocked at prominent stores such as Moda Operandi, Mytheresa.com, and Selfridges (in case you're not going to Nigeria anytime soon and you'd like to buy some).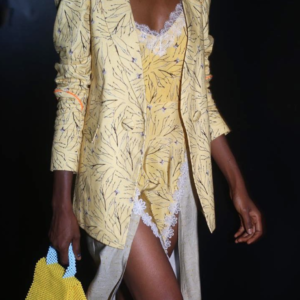 'I do feel like we could have done more, we could have moved further than we did, in terms of what fashion is in other parts of the world,' Folawiyo continued. 'We are currently hindered to a certain extent, regarding production, regarding the expertise of our tailors… we don't have enough production factories, we don't really have investors like the Western fashion world has. In Nigeria a lot of us tend to carry everything on our own. When you do that, there is a limit to your growth.'
African fashion can no longer be considered an exotic afterthought
Adebayo Oke-Lawal is the creative mind behind Nigerian menswear brand Orange Culture. When asking him about what hurdles the fashion scene faces: 'One is the preconception of what an African design is in the minds of not a few. People have this idea of how it has to look and feel. It can be limiting that we still have to somehow prove that African fashion is more than safari, tribal and wax prints, that's not what African fashion is.'
Through his designs Oke-Lawal investigates and reevaluates what it means and what it could mean to be a man in Nigeria. He isn't afraid to fight imposed stereotypes, nor to give men the opportunity to dress less masculine than the Nigerian norm. Besides standing ovations he also got to deal with death threats from the more conservative Nigerian considering his clothes infernal.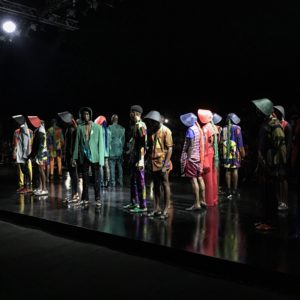 'I think it's important to allow African fashion to be more than those preconceptions, to commercialize it, too. The best way to help the industry forward is to not only come here and take photos but to put our labels in stores, to encourage brands to sell, to allow us to be a part of the global fashion industry.'
He's right. All too often African fashion has been (and still is) considered a somewhat exotic afterthought. That has to stop. It has earned its place in the global fashion system, rightly so. During Lagos Fashion Week I've seen plenty outstanding collections capable of competing with those shown in London, New York, Milan and Paris.
There was Tongoro Studio, the Senegalese brand Beyoncé is so fond of, of designer Sarah Diouf, known for her flowing pieces rich in pattern who capture so beautifully the African spirit of hometown Dakar. There was Maki Oh, from Nigerian designer Amaka Osakwe who's designs flirt with sensuality and desire and will have high slits and see-trough fabrics. Former First Lady Michelle Obama and pop stars like Lady Gaga are among the customers.
And what about Nigerian designer Emmy Kasbit, who got the opportunity to dress one of the most powerful women in the world on her first official visit to Nigeria last year: British Prime Minister, Theresa May.
For his latest collection he made a nostalgic journey into the past, to hometown Calabar. Wild colors run through the collection, which symbolizes the rich culture of the place. The comb motif represents the idea of a traditional marriage, the fingerprint motif is from the palm structure at a garden that plays host to lovers. Nothing in the collection was left to chance. It made the somewhat noisy audience at fashion week speechless.
All sewn up I think it's safe to say that in the future Lagos, providing that it'll work on improving fundamentals such as the infrastructure and electricity, will be written next to London, New York, Milan and Paris.