If you are traveling in South Africa and are craving a beer, you are usually dependent on the Cape's Jack Black. However, the exception can be found in Jeffreys Bay in the form of Brewhaha's colorful craft beers. The young brewery from the surfer town is known far beyond the city limits, but the specialty beers can only be drunk in Jeffreys Bay. "People from Port-Elizabeth and Johannesburg come all the way here for one of our beers", says owner Marius Deetlefs.
It is in the winter of 2015 when Marius Deetlefs returns from several years of work in an American craft beer brewery. Back in Jeffreys Bay, he is certain: "I'm going to brew my own beer." This is how Brewhaha was created. "That sounds a bit strange, doesn't it. Some people in the United States use the word Bruhaha as an exclamation of joy. So I thought, what if you enjoy what I brew: Brewhaha."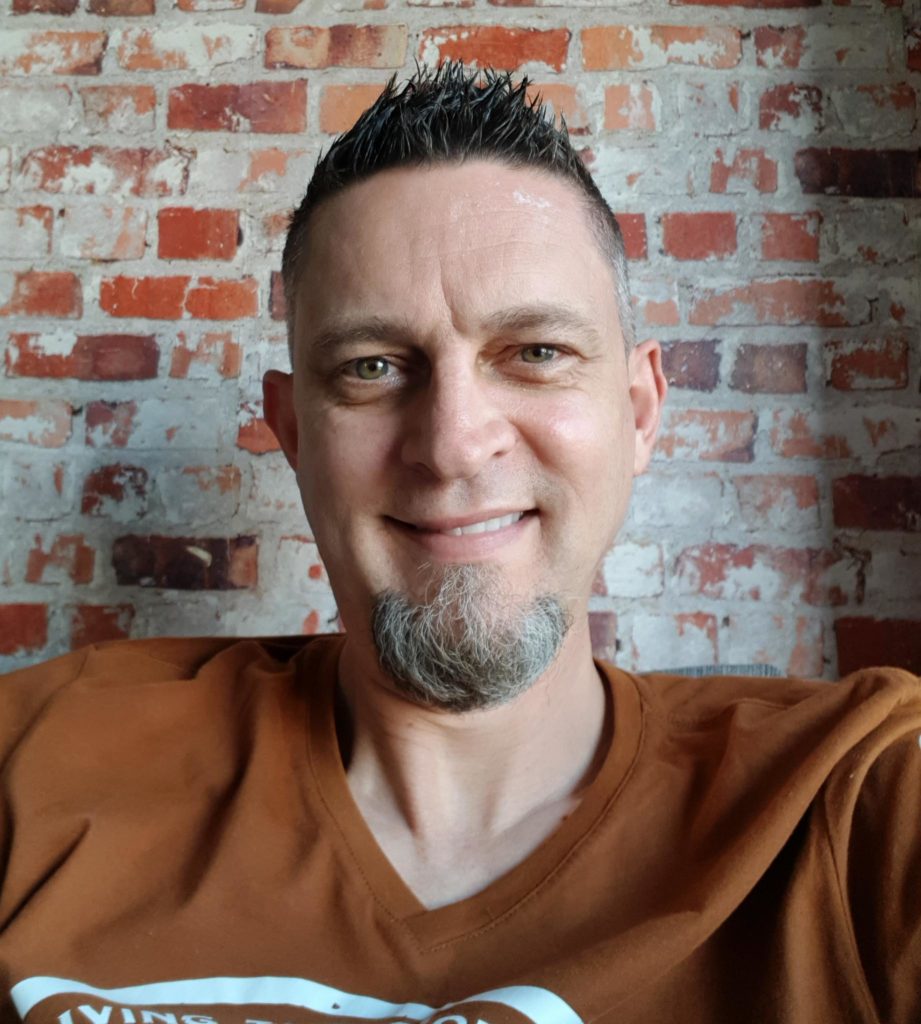 After Deetlefs started his brewery and the permits were obtained, he was shocked. "It's only a few months before the summer season starts, so we have to make good beer quickly." In a frantic battle against the clock, Deetlefs creates four different beers that are an instant hit. "Craft beer is new here in South Africa and people had to get used to it. The blond ale Endless Summer, in particular, was a hit, which is also an easy beer to get acquainted with craft beers. Nowadays, people here prefer the IPA Stormy Seas." Today, Brewhaha has nine different beers in circulation, just in Jeffreys Bay.
Unique designs
Spread throughout the surfer town, the Brewhaha beers are on tap at many restaurants and cafes. The specialty beers are even sold at the supermarket liquor store. Whether the beer tastes better from the tap or from the bottle is debatable, but in this case, the bottle is more fun. The beer bottles have a unique drawing printed on each flavor. "In America, I noticed that when choosing a bottle of wine, people did not look at the content, but rather at what the print looks like. For my beer, I want a print that resembles a painting and always reminds people of Jeffreys Bay. No palm trees, because we don't have them here, but instead surfers and dolphins."
For the Amber Ale Offshore Breeze, this is a print of dolphins jumping out of the water. For the IPA Stormy Seas, it is a drawing of a rain shower and high waves. And for the blond ale Endless Summer, it is a surfer on a blue-green wave.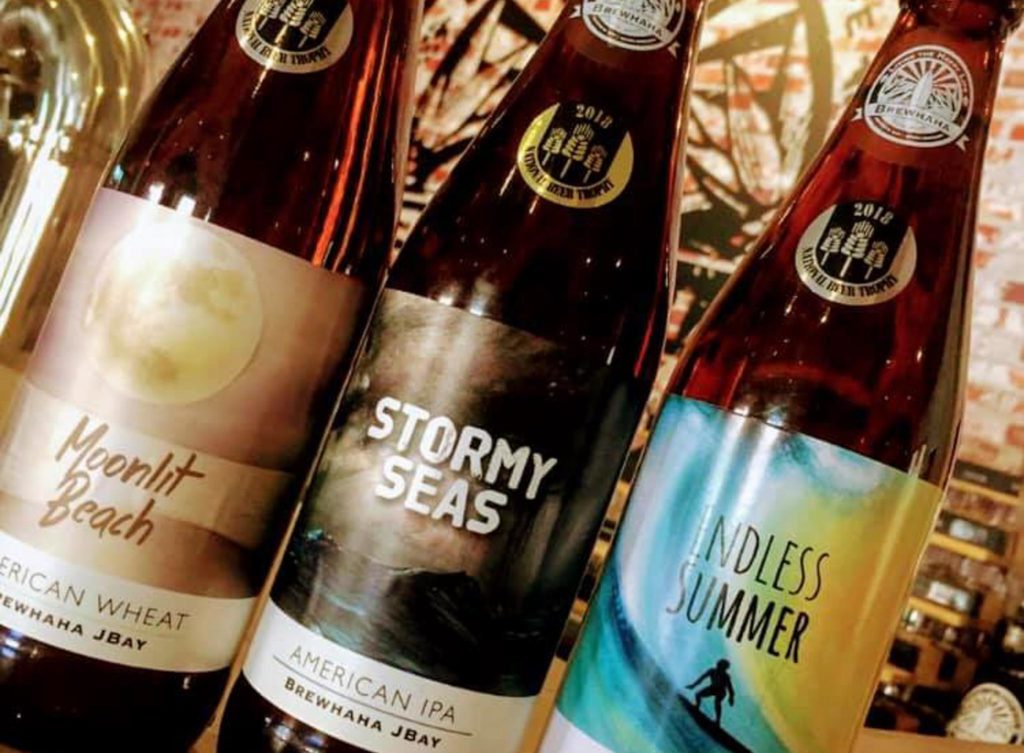 Beer from our own seawater
Deetlefs has recently gained new inspiration from breweries in the United States. "When I came back I had so many ideas, I had to get to work right away", says the happy-go-lucky brewer. His new beer will be one that's even more native to Jeffreys Bay than any of the previous beers. "We are now testing a new recipe using seawater from Jeffreys Bay. It will be an IPA with a caramel sea salt flavor. Now, the trick is that the seawater does not make it too salty."
The brewer tests his beer in small barrels of twenty liters, which must be ready for next summer season. Deetlefs is a perfectionist: "It takes a lot of trial and error. A little more or a little less seawater, more or less hops and the right amount of caramel. Every time I think, yes it is nice, but it could be a little better." Deetlefs starts to chuckle, "My daughter named this beer project Megalodon. Maybe I should come up with a design with a big shark on the bottle."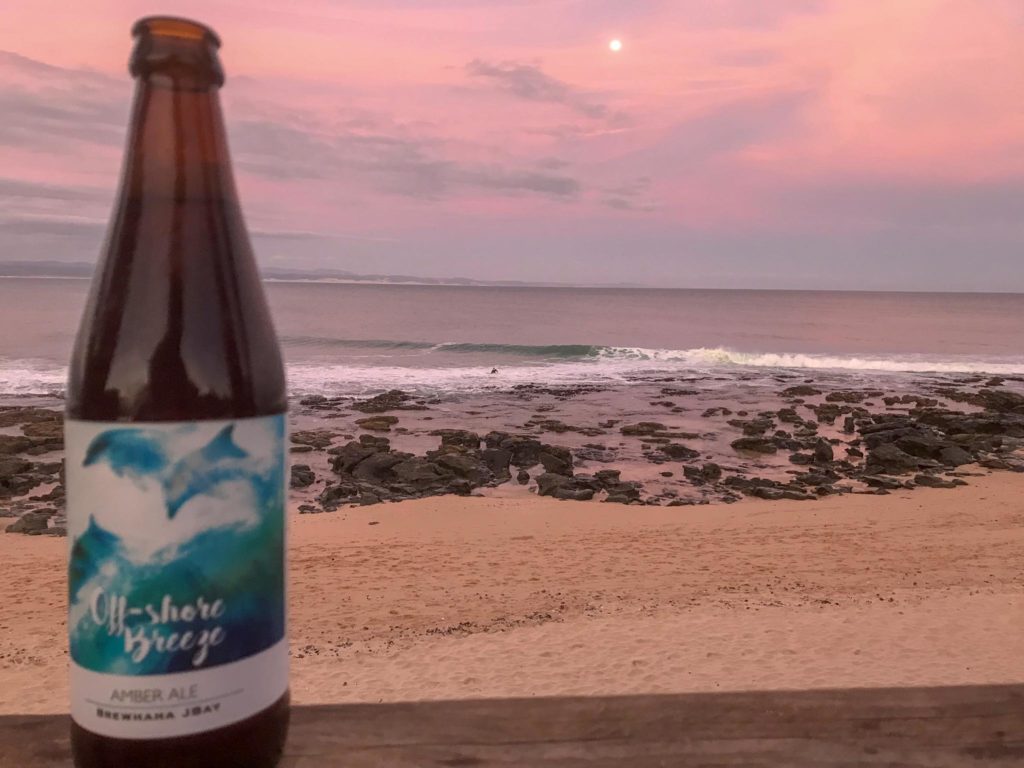 The brewer's favorite beer remains one of the original four: Stormy Seas. And he knows exactly when this IPA tastes best. "As many already know, we South Africans love to braai. A cold Stormy Seas tastes best when you are braaing with friends and family. Especially here, with the smell of food in your nose as you look out over the undulating sea with perhaps a dolphin or whale jumping. Yes, that's when it tastes the best", Deetlefs enjoys.
The Brewhaha beers are on tap at: Walskipper, Nina's, Global Junction café, The Bay Pasta Company, Clive's Chokka Block Restaurant, Kitchen Windows Restaurant, Grass Roofs Restaurant, and at Brewhaha's own Craft Restaurant. In addition, the bottles are sold at the local liquor stores.