Cape Town is famous for its delicious food and wines. So, a romantic dinner can not be missed. But where to go? Here's our Top 10 Romantic Restaurants in Cape Town.
Restaurants in Cape Town CBD
FYN Restaurant in CBD
FYN is a brand-new restaurant in downtown Cape Town. Their food is more than fine: award-winning chef Peter Tempelhoff serves an African-inspired menu in an urban setting. Customers are invited to the kitchen, which is situated right in the center of the place. This dinner on the fifth floor of the historic Speakers-Corner complex (with amazing views of Table Mountain on the left and Lion's Head on the right) may cost you about R975 per menu, but you can expect an unforgettable fine dining experience in return.
> FYN Restaurant, 5th Floor, Speakers Corner, 37 Parliament St, Cape Town fynrestaurant.com
Utopia Dining Elevated – former The Vue Sky Bar
At the top of the new Mirage building you will find Utopia, formerly known as the Vue Sky Bar. They offer you a fine dining experience with an impressive 360-degree view of Cape Town. Talking about romantic places…
> Utopia Dining Elevated, 15th floor, 40 Chiappini St, Cape Town, the-vue.com
Riverine Rabbit
Quite new and unknown: Riverine Rabbit. Chef Ash Heeger, starred at Netflix's The Final Table, cooks her meals over hot coals. All ingredients are locally sourced, seasonal and sustainable. Dinner is served in an ambiance with loads of greenery and artwork on the walls.
> Riverine Rabbit, 1 Church St, Cape Town City Centre, riverinerabbit.com
> Explore the favorite wineries of wine maker Martin Stevens in Stellenbosch
Restaurants Waterfront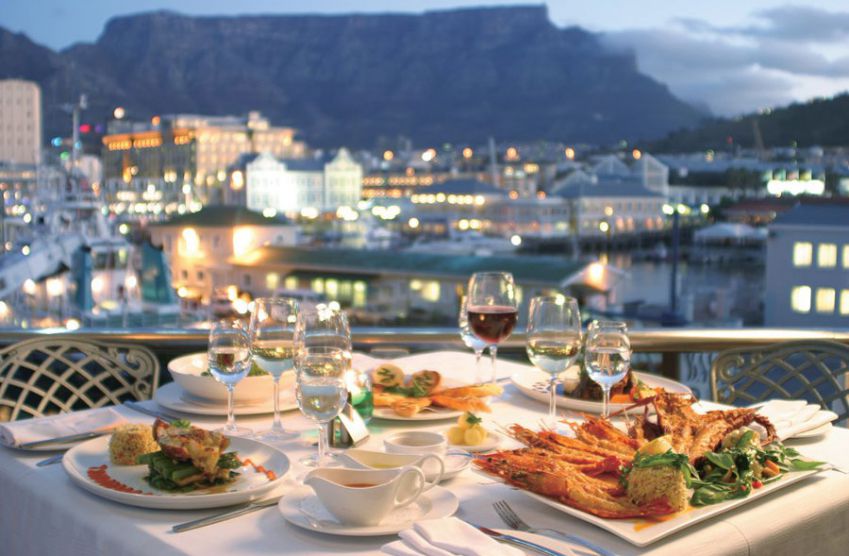 Baía Seafood Restaurant on the waterfront
Baia Seafood Restaurant is located at the Victoria Wharf at V&A Waterfront. Chef de cuisine, Patricio Cumaio, believes in using only the finest ingredients. Those fresh ingredients combined with Portuguese influences are making the greatest seafood platters a foodie could wish for.
> Baía Seafood Restaurant, 3 Dock Rd, Cape Town, baiarestaurant.co.za
City Grill Steakhouse at V&A Waterfront
Would you rather enjoy some meat? Go to City Grill Steakhouse, which offers a large game selection including warthog, ostrich and crocodile.
> City Grill Steakhouse, Shop 155, Victoria Wharf Shopping Centre, V & A Waterfront, citygrill.co.za
Restaurants at Sea Point and Greenpoint
Restaurant Pigalle: dining with live music
One of the best seafood restaurants in Cape Town is definitely Pigalle at Greenpoint. As if great food isn't a good standard, Pigalle offers live music every night; which makes it the perfect venue for a night out.
> Pigalle Restaurant, 51A Somerset Rd, Green Point, Cape Town, pigallerestaurants.co.za
Restaurants in Cape Town Camps Bay
Sea side restaurant Bilboa
The best fit for your Instagram: Bilboa at Camps Bay. The restaurant is quite popular with Instagrammers, which doesn't really surprise; considering the beautiful location of the restaurant with their sea view and insta-proof food.
> Restaurant Bilboa, Shop 120, First Floor, The Promenade, Victoria Road, Camps Bay, Cape Town, www.bilboa.co.za
Paranga: dining with sea view
Enjoy some delicious seafood in Camps Bay and go for dinner at Paranga. Reviews range from 'best steak in Cape Town' to 'excellent sushi' and their seafood platters are always a hit. The luxurious interieur and stunning sea views are additional advantages to impress your date with.
> Paranga Restaurant, Victoria Rd, Camps Bay, Cape Town, www.paranga.co.ca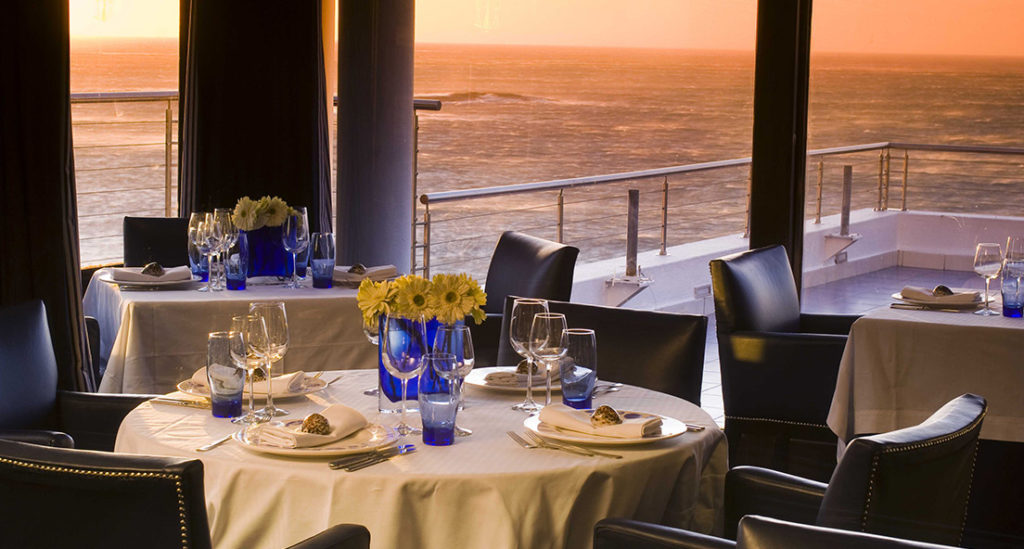 Go for dinner at Restaurant Azure. Photo: Azure Restaurant at Twelve Apostles Hotel
Azure Restaurant at The Twelve Apostles Hotel
It's all about the location and Azure Restaurant at the award-winning Twelve Apostles Hotel knows it. Their exquisite dining experience is located above the Atlantic, on the slopes of Table Mountain National Park. The roast duck is highly recommended.
> Restaurant Azure, Twelve Apostles Hotel, Victoria Street, Camps Bay, Cape Town, www.12apostleshotel.com
Restaurants at Constantia
Bistro Sixteen82
Surrounded by vineyards and mountains dining at the elegant Bistro Sixteen82's is quite an experience. Flavourful dishes, inspired by Asian- and Spanish influences, are served with a view of the garden, with its impressive water features and sculptures.
> Bistro Sixteen82, Steenberg Rd, Tokai, Cape Town, www.steenbergbarm.com
Search for the closest romantic place: