On safari from your living room? Sally, Carel and their team make it possible: in Serengeti Show Live they follow the wildebeest on their trek through the national park. Watch and admire the animals in their natural habitat. Planet Earth eat your heart out!
Corona in Tanzania
When the first corona patient is reported in Tanzania, the first measures are announced not long after. Tanzania does not go into full lockdown, but it does impose restrictions: schools close, shops remain open. Gathering is prohibited, but you are still allowed to take to the streets. The population wears masks and washes hands frequently. Where neighboring countries close their borders, Tanzania keeps its open. However, the tourists stay away.
Great Migration in the Serengeti
Serengeti National Park, which covers an area of ​​almost 15,000 square kilometers, is known for, among other things, The Great Migration – a spectacle in which millions of wildebeest, zebras, wildebeest and gazelles roam the savannah. When we call Sally Grierson and Carel Verhoef, initiators of Serengeti Show Live and owners of 7 Summits Africa, they are at their camp at Naabi Hill, the main entrance to Serengeti National Park.
With bookings stalling, they face a huge challenge: "Tanzania depends on tourism for more than seventeen percent of its national income," says Sally. "There are so many families and families depending on their work in the parks. But we don't want to wait for something to happen. We just show how beautiful it is here. "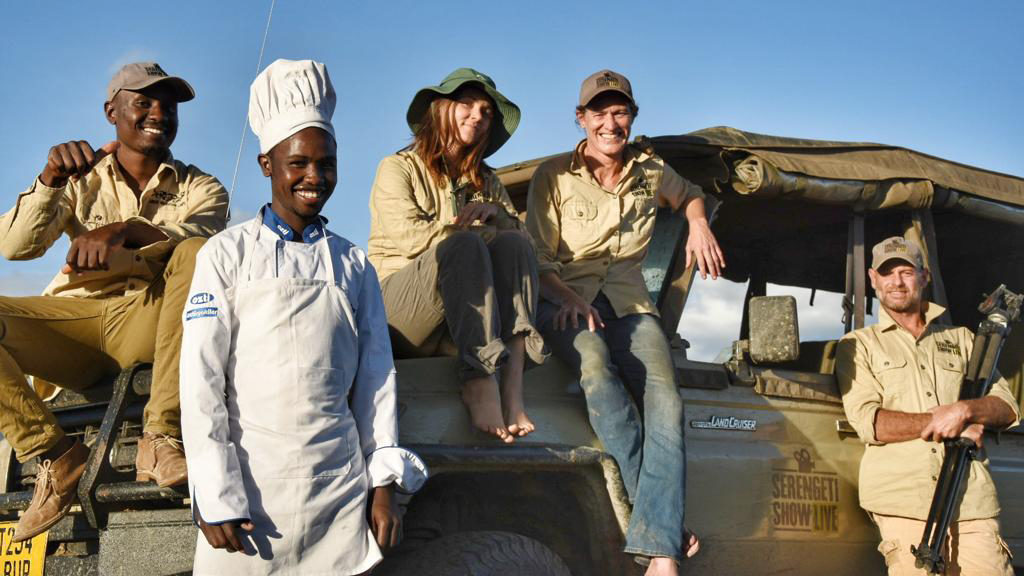 Serengeti Show Live
With The Great Migration on their doorstep, Carel and Sally approach the national park: if tourists don't come to the park, why don't we bring the park to the living room across the globe? "We previously provided live streams from the Masai Mara and from Mount Kenya," says Sally. "Now we follow the wildebeests on their trek through the park." That creates exceptional pictures: "The park is not officially closed, but there are currently only 150 people in the entire park. It is incredibly quiet here. "
Poaching
"The animals move freely and are very relaxed," adds Carel. "We see much more life from the road." However, there is also danger: "It is rainy season and that is normally a good season for poachers," says Carel. "But with the absence of tourists poaching has increased. Normally, the poachers stay away from the tourist area. The anti-poach units mainly monitor the remote areas. With the tourists away, the same units need to control a much larger area. We are facing a huge challenge. "
"Conservation is all about protecting habitats. Nature conservation needs tourism. There is no better way to pay the bills. We are very concerned. What is a national park without its lodges? That is why, in addition to Serengeti Show Live, we try to support as many entrepreneurs and guides as possible during this difficult time. Does the lockdown have an advantage? Certainly, the animals feel less pressure from tourists. They move freely and are less stressed. But what's a little stress if they're protected with that and it pays the bills of 22 national parks? Once you lose a national park, you will never get it back again… "
In that regard, the Serengeti Show Live also provides an opportunity to educate a wider audience about the challenges of the national park. A fundraiser for Serengeti Show Live is now online and the first five episodes can be admired. Carel's favorite is episode 2: "We meet a male lion and an elephant shortly after. But, believe me, it gets even better. We are now moving into an area with a lot of animals. Much more action is coming! "
Curious about the first episodes? Watch Serengeti Show Live and donate. Carel takes you on safari in a new episode every Friday, Saturday and Sunday at 5 p.m. (East Africa Time).
Watch the first episode of Serengeti Show Live