The thought of ever being arguably Zimbabwe's best sculpting export must have been nothing more than an audacious pipe dream for Dominic Benhura. Born into a poor family, Benhura understandably kept his hopes simple as he experimented with clay while herding cattle in rural Murewa, north-east of Zimbabwe.
Four decades down the line, Benhura has defied the odds to become an internationally renowned artist. The multi-award winner's art pieces are collected and displayed all over Africa, Europe, USA, embassies, international airports and even presidents' homes and offices. 
Born with no silver spoon
Life dealt Benhura a heavy blow before his first step on earth as his father passed away in June 1968. Benhura would be born to a widowed mother four months later and enter straight into a difficult life. His father's death left his mother hopeless and destitute after a series of misfortunes. She found the going tough with little support and a young family to take care of. His mother then turned to vending vegetables and firewood in order to fend for the family.
Born with no silver spoon in his mouth, Benhura had to assist his struggling mother from a tender age by herding cattle. The days spent mostly alone at the pastures led to young Dominic discovering a passion for sculpting.
"I started sculpting with clay in Murewa at the age of 6 while I was a herd boy, to supplement food since my mother was a widower, my father died in June of 1968 and I was born in October," he said.
Text continues below.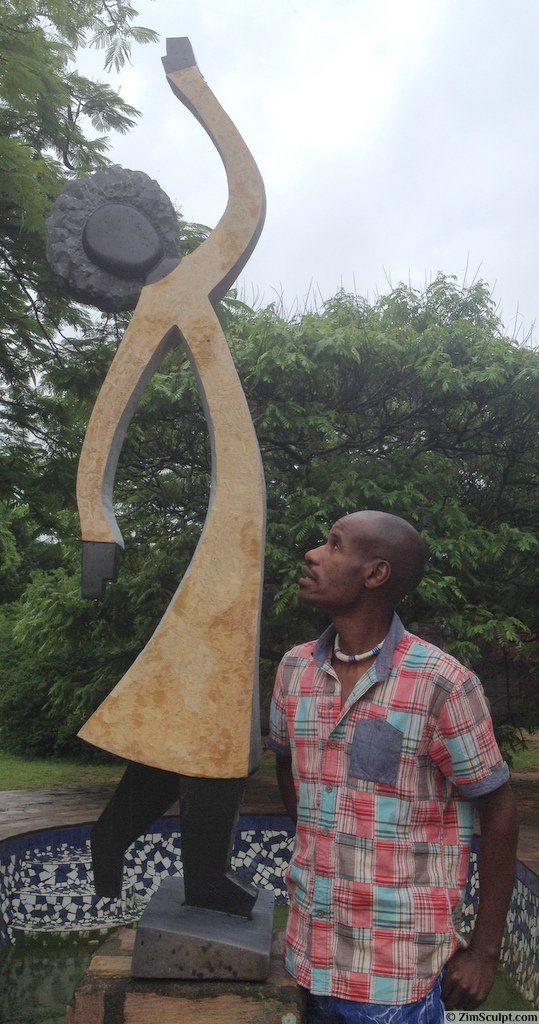 Academic brilliance
He would go on to brazenly refuse to be kept down by poverty and soon distinguished himself as gifted student at school. Benhura's academic brilliance ended up in his uncle asking him to move to the capital city Salisbury (now Harare) for better schooling prospects at the age of 10.
The desire for art captured him whole in Salisbury after teaming up with his cousin Tapfuma Gutsa. His cousin was already a known talented sculptor and he took young Dominic under his wing as he showed an aptitude for the craft. The great leap from clay to stone happened by default as the type of clay available was not suitable for his work. It was not long before Benhura started making profit once he had mastered the intricacies of stone art.
"Stone was the material I came across, and only option to have fun creating sculptures since I no longer had access to clay. It started as a hobby whilst I was in school but I ended up paying my school fees from sculpting."
First piece sold
Selling his first piece at age 12 convinced Dominic Benhura that he could make it with his new found talent. After much deliberation he made a calculated risk and dropped out of college at 20 to join the artistic revolution sweeping across the country at the time. The Shona art movement had started in the 1950s and Benhura jumped into it and went on to become its most celebrated exponent.
"I have travelled to all the continents holding exhibitions in Holland at the Leiden Botanical Gardens, Sweden, Belgium, Australia, Germany, USA, South Africa and Asia to mention a few. I have been privileged to be recipient of numerous local, regional and international awards. My art has taken me to places I could have never imagined. I have graced the presence of Heads of States and royals because of that gift. Seeing my art in public places such as Atlanta airport, Benson Park and the Singapore Botanic Garden as well as Embassies of Norway, the Netherlands and Sweden in Zimbabwe has been humbling," Benhura said of his career accomplishments
"It is a Blessing from the Almighty to have a passion which puts food on the table. So no matter how big the challenges I come across are, I find peace and comfort in my work. My inspiration comes from the world around me and has also created wonderful relationships for me. I once did a piece for President Xi Jinping of China which boosted my popularity and earned me a lot of friends in that part of the world."
Dominic Benhura: international celebrated
At some point Benhura seemed to be celebrated more abroad than at home because of the international coverage which he was getting. He famously did a piece for global icon Nelson Mandela and various African leaders. However, his legacy and abilities were never in doubt as he set a wide international portfolio. Asked on which of his pieces he cherishes the most Benhura had quite a few to mention,
"I have several pieces I like such as the head installed at Danhiko Industrial School office on the wall. Our HIV Friend which I made when I lost my brother to HIV/Aids to counter stigma is one. I also got contacted by a lot of collectors because of the Leap Frog piece at Atlanta Airport. I also like Swing Me Mama which I did for Mandela which gave me the opportunity to be invited to meet him in person,'' he said.
"My daughter was also given a scholarship to study in China as a result of The Friendly Lion and Mummy and Baby which are in the President of China's collection. I have hundreds of friends now from around the world who visit my Studio to collect." he added.
Benhura believes art plays an important role in the preservation of a nation's cultural heritage as witnessed by the Shona stone sculpting movement. This has helped Benhura in renewing appreciation of Zimbabwean culture in his services as a cultural ambassador to the world.
"Art plays an important role in the documentation of a nation's culture and heritage at any given time in physical form or song," he said. He also said that his international exposure has helped him achieve a better understanding and appreciation of the human race as a whole.
"We are created equally in the eyes of the Lord, regardless of race, economical and health issues. We set an example to the young ones and influence their behavior as they grow. Now everyone is wearing a mask because of Covid-19 to prove we are the same. No animal is wearing them expect people proving that no race is more special than the other," he said, in reference to his ideologies.
Powerhouse Zimbabwe
Benhura also denounced piracy saying originality is what made Zimbabwe a powerhouse in stone sculpting and if that status is to be retained, the vice had to be dealt with effectively.
"Piracy should be dealt with, so that infringing art works do not flood the market and spoil the reputation Zimbabwean Art enjoys globally. The ingredients to success are and remain talent, passion, commitment, discipline and original work creation. Artists should desire to experiment and find their own signature."
A career borne out of difficult circumstances sets Benhura apart as a man who refused to let his background define his future. Today Benhura sits in the company of the world's best stone sculptors, creating timeless art pieces from mere lumps of rock. It is a fitting tribute to a man who overcome a rough start in life to carved out his own beautiful story from a block of adversity.