Since time immemorial African art such as sculpture paintings and various other objects have held a deep cultural and spiritual significance. Zimbabwe's art scene, with sculpting in particular, has grown in leaps and bounds from the days of first generation artists such as Joram Mariga to contemporaries like Bryan Mteki and Dominic Benhura.
Visitors to Zimbabwe often carry back a piece of the culture and artistic perception of the country from hubs such as Victoria Falls. The resort town which is arguably Zimbabwe's premier tourist attraction, is a melting pot of culture and artworks. There are a number of local markets which sell African print fabrics, sculptures, beaded jewelry and woven baskets and mats throughout the country. Where to enjoy Zimbabwe's art at its best? Here are some ideas!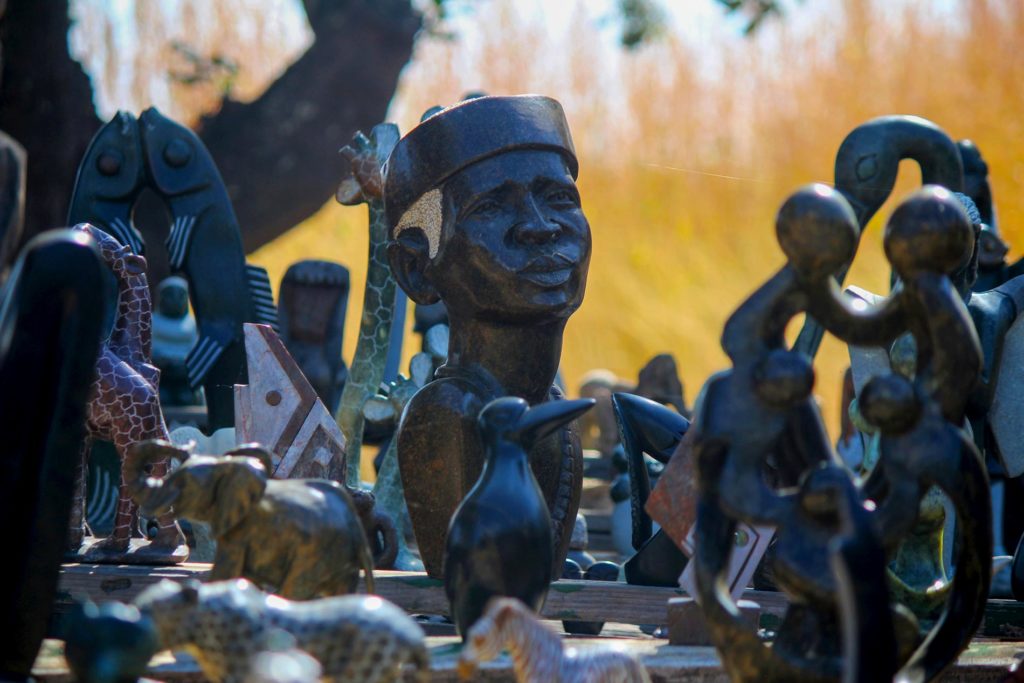 Tengenenge Arts Village: bedrock of Zimbabwean sculptures
The celebrated Tengenenge Arts Village in Guruve is largely believed to be the bedrock of Zimbabwean sculptures. The sculpting community hardly gets the traffic flow of guests befitting its legendary status due to its distance from the main cities. Art collectors and buyers, however frequent the buzzing community to witness the stunning works. The arts village is set up in a traditional African compound layout, with thatched mud huts surrounded by thousands of art pieces made by the resident and visiting artists.
Address of Tengenenge Arts Village: the village is located about 150km north of Harare. It is around a two-hour drive. Guruve is the main town near to Tengenenge. | When to visit: All year round, Monday to Sunday 8am to 5pm. | Visit the website of Tengenenge Arts Village.
Discover Zimbabwe National Art Gallery
Places such as the National Art Gallery of Zimbabwe carry some impressive pieces that make a collector's delight right in the Harare central business district. It's conveniently located in the city center, with the former, a stone's throw from the Crowne Plaza Hotel and Harare Gardens.
The National Art Gallery has vast art collections and pop-up exhibitions at the venue. Although parking space is small at the gallery, it still commands a large number of visitors because of its dynamic events, art displays and restaurant. The National Gallery also has branches in Mutare and Bulawayo.
Zimbabwe National Art Gallery, Park Ln, Harare, is open from Tuesday to Sunday (9h00-17h30). | Visit the website of the National Art Gallery.
Visit Zimbabwe Museum of Human Sciences
The Zimbabwe Museum of Human Sciences in Harare is right next to the majestic Rainbow Towers Hotel. This makes it ideal for visitors looking to kick-start their city tour straight from the hotel to go check out the museum. It is filled with curious artworks which range from cultural remains and paintings as well as sculptures. However, if one wants to experience the raw art in its full glory and creation, they need look no further than two premier sculpting spots.
Zimbabwe Museum of Human Sciences, known as the former Queen Victoria Museum, is located at Burnett Way, Harare and open on a daily basis from 9h00 till 17h00. | Visit their website.
Explore Newlands Art and Craft Market: hidden gem in Harare
Newlands Art and Craft Market located at the upmarket shopping complex just under 2km from the city center is a hive of activity. It is home to beautiful stone, bone and wooden sculpted pieces. The center is host to about a hundred artists specializing in different art disciplines.
"Our arts community has artists specializing in diverse artworks such as sculpting, basket crafts, fabric art, drawings and other disciplines, which have made us one of the main attraction points in terms of Zimbabwean and African artwork," said Tapiwa Madziyire, a stone sculptor and market representative.
"Let our art heal the world"

Dominic Benhura
"We receive a lot of art enthusiasts and collectors every year from Europe and Asia. Our diversification ensures that we satisfy everyone's taste from art lovers to homemakers. We receive a lot of bulk art buyers especially from Europe during April, May and June and we assist in the shipment to their respective countries."
The Newlands Art and Craft Market has a vast collection such that it is unlikely for one to fall short of their requirements. The artists had temporarily halted their works because of the lockdown but are now easing back into routine and taking orders.
Visit the Newlands Art and Craft Market east of the Central Business District, between Enterprise Road and Newlands Shopping Center in Harare. The market has no website, but you can find them on Newlands Art&Craft on Facebook or call +263 77 226 9779.
Domboshawa Arts Centre: home to a number of sculptors
Away from the concrete jungle that is the Harare City Centre, veiled with mystic tales of the area, lies the Domboshawa Arts Centre. It is always a hive of activity and home to a number of sculptors headlined by Ali Saidi. The sculptor has over 4 decades of experience under his belt and specializes in different types of stones. His pieces draw inspiration from Zimbabwe's history as well as contemporary culture.
"Our sculpture aims to build and sustain African culture by portraying our past and present lifestyles. We incorporate realism in our work that's why anyone from anywhere can relate to Zimbabwean sculpture, which has made it a hit with international collectors," he said.
A survey of the pieces on display by Saidi and others bears testimony of their abilities in carving mere rocks into beautiful art pieces. There is a gallery of spectacular pieces ranging from large to miniscule, portraying day to day life as well as flora and fauna.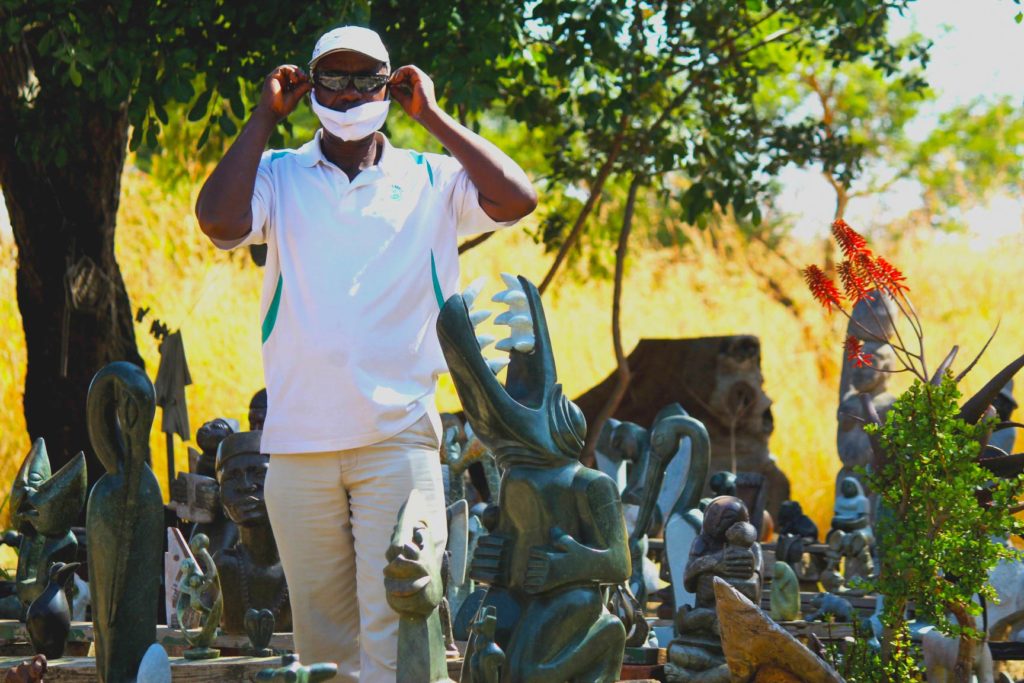 Grief and terror: impact of COVID-19
One piece that currently stands out from the rest is a magnificent 50kg sculpture of a wailing crocodile kneeling in the center of the displays. The crocodile is apparently looking to the heavens and seems to be in deep grief, judging by the features carved into its face. The riveting piece of art demands attention and prompts curiosity.
"This piece is an artistic expression of the grief and terror brought about by the coronavirus pandemic. As you can see the crocodile is in tears representing the loss of lives being experienced daily and it is kneeling and looking up to the sky, praying to the Lord for salvation and restoration from this disease," said Saidi, explaining his masterpiece.
No lone cry
Saidi's lament over the Covid-19 effects is not a lone cry as veteran sculptor Dominic Benhura echoed his colleague. The renowned artist who has held exhibitions around the world promised something after the lockdown.
"My intended shows in the middle East and USA were postponed due to the lockdowns. As most local artists commute to different places, workshops and studios to work, communal art had unfortunately stalled. Art is apparently considered non-essential so on a main front nothing much is happening," said Benhura.
"I have an idea of a piece concerning Covid-19 which I am yet to implement, maybe this year on later on. I may even conduct a local show if I manage to put together a body of work from the ideas I have during this period and events happening globally" he added.
The legendary artist also rallied a philosophical take on the prevailing situation and deemed it as another opportunity to fulfil art's mission to unite everyone: "Let's treat each other equally regardless of gender, color or age since we were all created equally in the eyes of the Creator. No wonder every human being across the globe is wearing a mask, sanitizing, practicing social distancing. No other creatures or animals are doing that. So we are equal and should let our art heal the world."
So if you are an art lover, collector or would like to experience a different and unique side of Zimbabwe other than its magnificent national parks than you should definitely check out the rare and refreshing African sculptures of Zimbabwe.