There are many options to get from one place to another when travelling in Kenya. After reading this article you know everything about whether or not you should jump on the back of that motorbike.
Matatus
Matatus are the small vans that you will see driving everywhere, in many places. It is the way of transportation that is, by far, the most used by Kenyans. It is one of the cheapest ways to travel, but not really the most comfortable one. 
When you are resistant to a bit of chaos, travelling through Kenya with a matatu gives you a unique experience. Officially about twelve people fit in the minivan, but we can assure you that more people are brought along. Be prepared for a 'cosy' ride in which you are seated close to each other.
Motorbike
A more comfortable way to transport yourself are the so-called boda bodas, which means motorbike. Like the matatus, you cannot miss these while travelling through Kenya. And you'll be surprised how many passengers it can carry. With a lot of luggage, this is a bit less convenient and compared to the matatu it is a little more expensive. An advantage of this choice is that it is more comfortable and that you can be dropped off closer to, or at your destination. At daytime, be sure to jump on the back of the bike if you have to cover a short distance!
TukTuk
In the coastal area of Kenya, there are also tuk-tuks, which you may be familiar with from Asia. Especially when it rains this is a good option instead of the motorbike. The only thing you have to do to get your hands on a tuk-tuk is to stand on the side of the road. Within a minute there will, for sure, be one stopping to get you to your next spot. Only get in after you have agreed your destination and fare with the driver.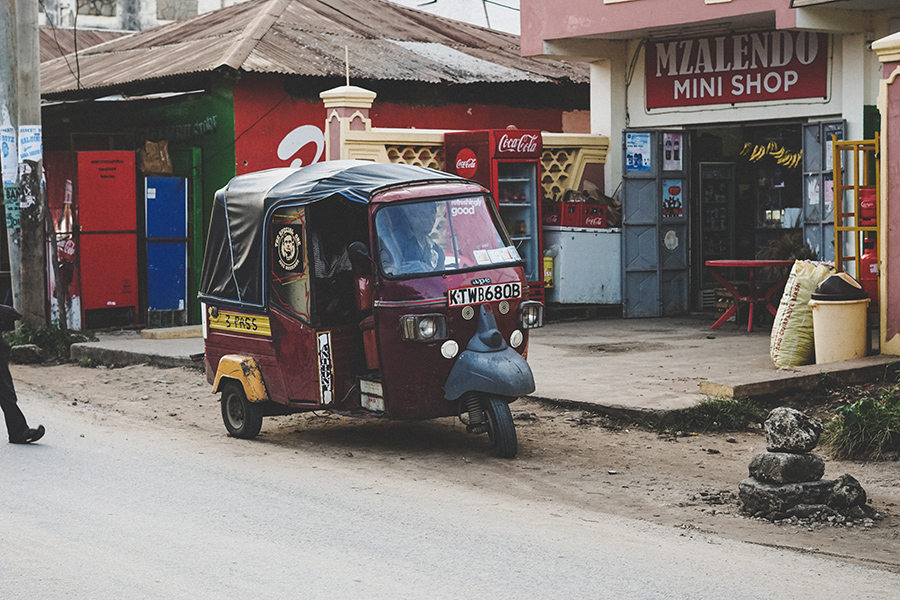 Uber
If you want to arrange your ride with a little more certainty, Uber is a very good option. It works the same as in Europe and the prices are very reasonable.
SGR – by train from Nairobi to Mombassa
A very nice way to travel between Nairobi and Mombasa is to take the train. This brand-new railway line runs through national parks Tsavo East and West. A good view during the six-hour ride is therefore guaranteed and the chance of spotting wildlife is almost certain. The train departs twice a day, in the morning it is a local train with various stops, in the afternoon it runs express. It is wise to book the train a week before your departure as the train fills up quickly. At the day of departure, it is advisable to arrive well in advance. There is an extensive baggage check that takes a lot of time, so one to two hours is definitely needed. A train ticket from Nairobi to Mombassa costs 1000 KSH (about 10 euros) for economy class and 3000 KSH (about 30 euros) for first class.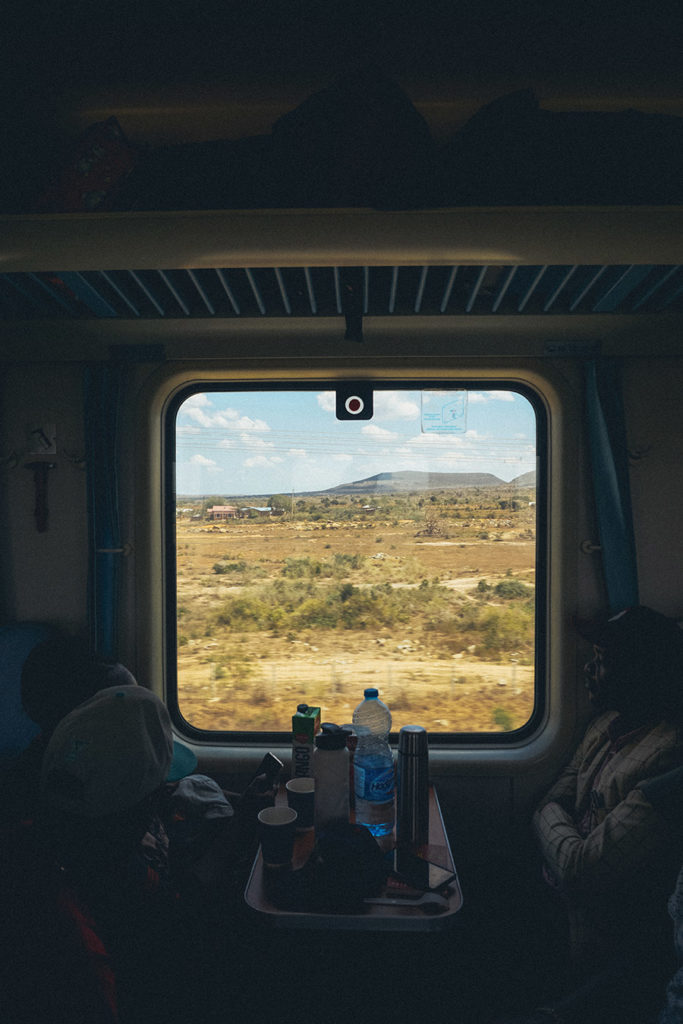 An important note: both train stations are not located in the city centre. In Nairobi it is opposite to Kenyatta International Airport and from Mombassa, you can take a taxi or matatu to the city centre, which you can arrange from there.
Travelling Kenya by bus 
If you want it all to be a bit more comfortable, there is also the possibility to travel longer distances by bus. Busses stop less often and offer you more seating space during the trip. Although they are not necessarily faster, they do have more or less a fixed departure and arrival time.
How much a ticket costs depends on the bus company and the class in which you desire to travel. Buses often depart from the place where you also have to buy your ticket, the booking office. Some bus companies have a few fixed stops along the way, where you can get on and off. With other companies, this can be done at any place on the route. It is useful to inquire about these when you buy a ticket then you can take into account the duration of the ride (the buses that stop everywhere along the route are often cheaper). As with the train, it is advisable to reserve a seat on the bus in the week before your departure. Bus companies that are recommended using are Modern Coast Bus, Simba Coach and Tahmeed Buss.
Discover more travel tips in Kenya: go on safari in the Masai Mara, enjoy an eco-friendly stay with Emboo Camp or tour through Nairobi with Nai Nami.