"Life is short and you have to enjoy it as much as you can, as long as you can," says Jacqueli Tulleken. At the end of 2018, the South African chose for adventure. Together with her husband Joubert, they travelled Southern Africa overland. In their white Land Rover Defender, which is affectionately called Mkulu the Landy, they covered more than 19,000 kilometres in nine months.
From Cape Town to Lake Malawi
"We've always enjoyed the outdoors and camping," she continues. "Four years ago, Joubert did the Lonely Bull Trail in the Kruger National Park (A four-day walk in the wilderness, editors.). That was such a great experience within nature, that he just wanted more. Then we started planning our African adventure. We changed some things in our lifestyle and saved every penny we could." After three years of saving and preparing, the couple took the plunge: they quit their jobs, put all their earthly possessions in a storage and set off. The ultimate goal? Drive from Cape Town to Lake Malawi and visit as many National Parks as possible along the way. But the journey is by no means a race, she emphasises: "We take our time. We have already travelled through Kgalagadi, Namibia, Zambia, Malawi, Botswana and Zimbabwe and have just spent a month in the Kruger National Park. We have already travelled 19000 km (which is more than from Cape Town to Cairo) and from Pretoria, we will travel to Cape Town to make a few stops along the way."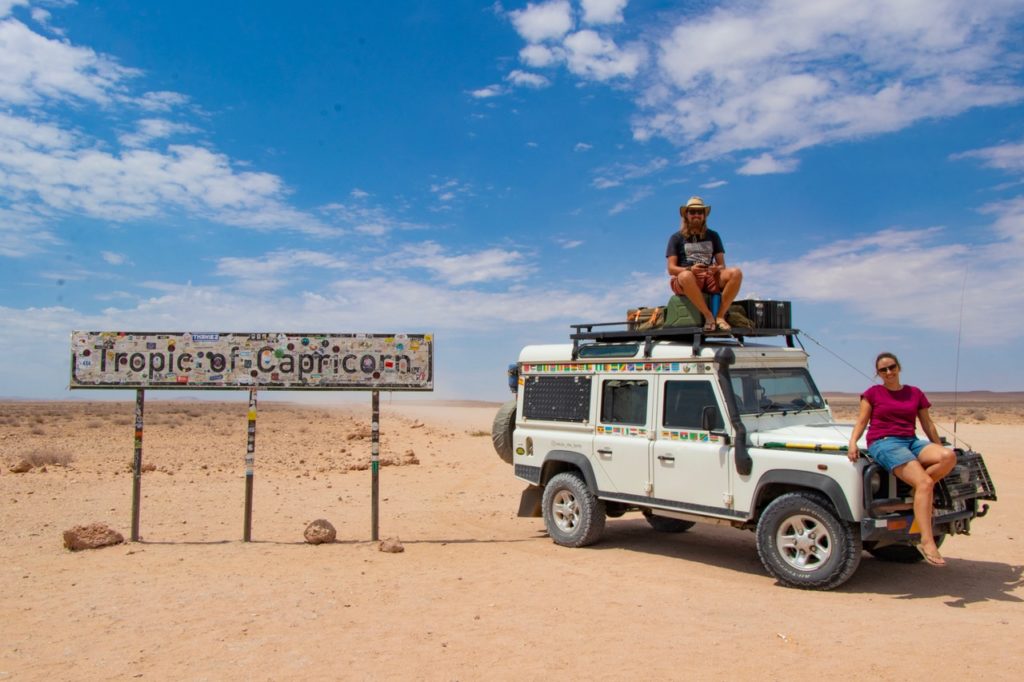 Car papers
The one thing that, after three years of preparation, has helped them the most? "It's very important to make sure the car papers are in order," she tips. "A border crossing in your own – or rented – vehicle is much more intense than when you get on a plane and fly to another country. Read about your vehicle and visa requirements for the countries you want to visit, depending on your nationality and the countries you want to visit."
"While travelling in Africa you will encounter many roadblocks. This can be stressful, especially when you are travelling there for the first time. But laugh, talk and wave at all the friendly people. A smile and a friendly face will take you well beyond a passport. That is something we have learned over the past period."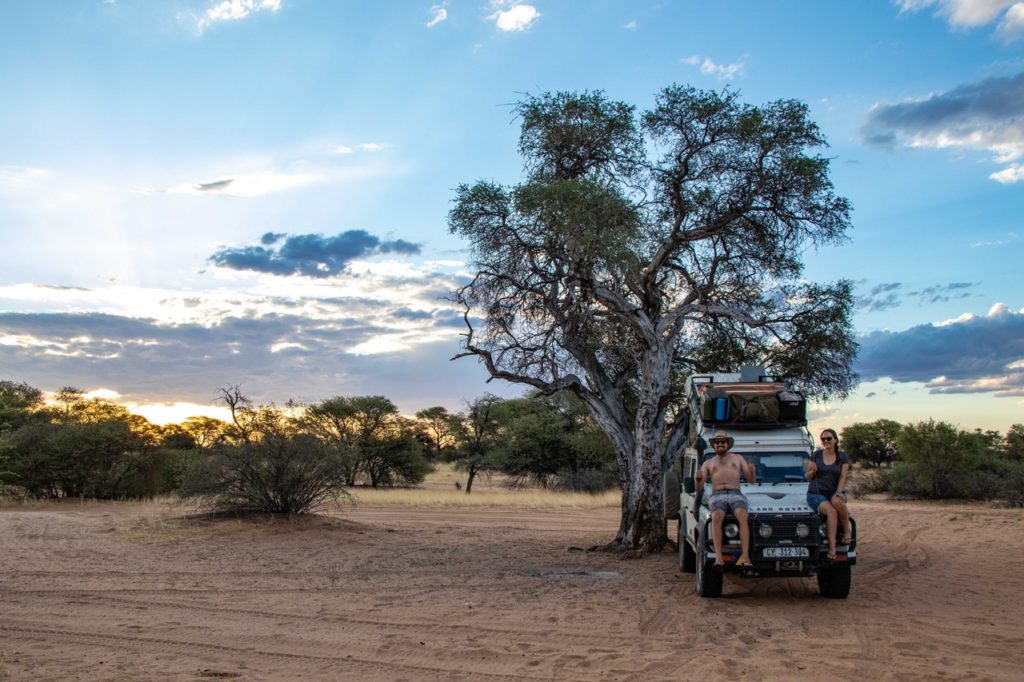 Kindness
This friendliness she calls the biggest surprise of their journey for sure: "Whether it's a random person along the road, who steered us in the right direction; or the friendliness of fellow-overlanders. The friendliness of the African people surprised us in every country we travelled to."
Safe
Jacqueli never considered herself unsafe. "Except during encounters with wild animals, but that's what we came for," she laughs. "We only travelled in SADC countries (Southern African Development Community, an economic partnership with sixteen Member States, including South Africa, Zambia and Tanzania), which is fairly safe, except for South Africa, where you unfortunately always have to be careful. The more remote the place you are travelling to, the less you have to worry about people being a problem. In remote and wild places, you only need to understand those wild animals are really wild, always keep a safe distance and respect them.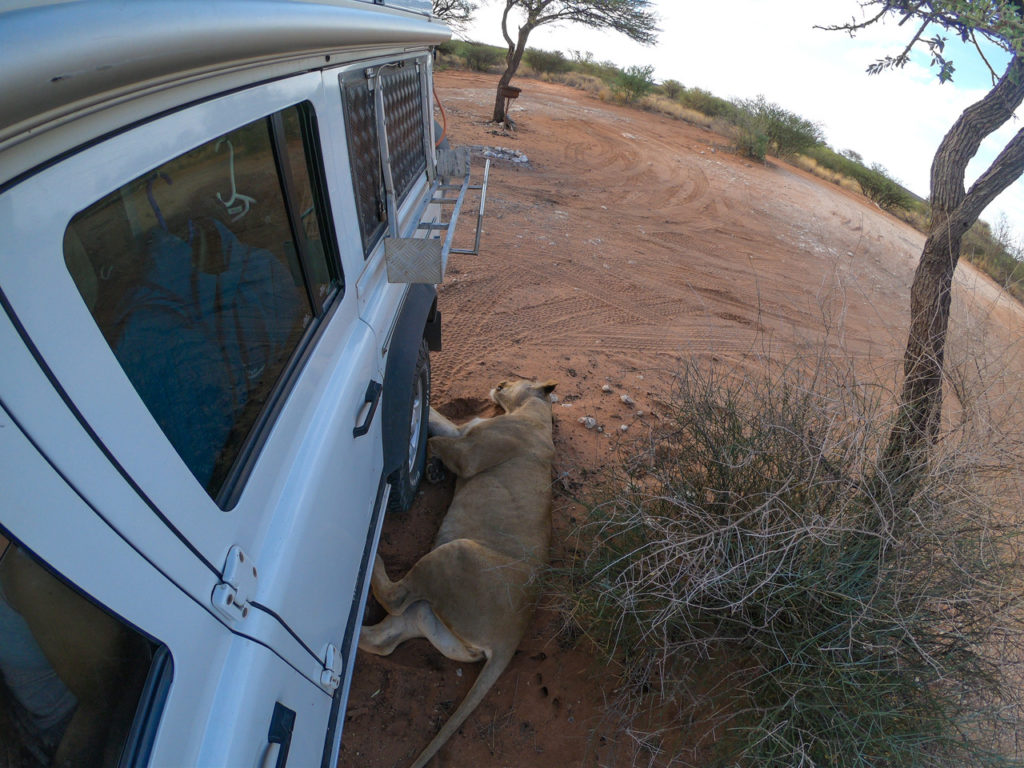 A fierce chase
Their adventure is full of impressive moments, but there is one specific, unique experience which will remain with them forever: "We were trying to find desert elephants in the north-western part of Namibia, called Palmwag. We camped out in the Hoanib River and at sunrise, we set off. After thirty minutes of driving in the riverbed, we found two desert-adapted giraffes (another rare find) and as we filmed them, two desert lions began to chase them. We couldn't believe it: never, not even in our wildest dreams, did we think we would find desert lions!"
"It was fantastic," she continues. "It was just the two of us and the lions. We followed them all morning as they tried to hunt for giraffes. By noon we had to make our way out of the Palmwag area because we had to be in Etosha the next day. On the way back we also found sixteen desert elephants. Altogether a day to never forget!"
In the series Overlanding Africa, we talk about the adventures of overlanders. In part two, Joubert and Jacueli Tulleken, aka Juba's Journey, will talk about preparing for the trip. Follow them on YouTube for more about their adventures: