Ah, Marrakech, one of the four Imperial Cities of Morocco (Fes, Meknes and Rabat are the other three). So for those who travel to Morocco, a must-visit. Although: nothing must be done, of course, everything is allowed. Still, it would be a shame not to visit the city of Marrakech. Plenty of beautiful sights to marvel at, to photograph and to be photographed at.
The favourite and most photogenic things to do and sights to see in Marrakech, according to Explore Africa:
Rooftop bars in Marrakech
For those looking for a higher altitude, beautiful view over the city can be seen. A rooftop bar is a total win-win, because while you're dreaming away with the view, quietly witnessing the crowds down the street, you're sitting on a soft pillow drinking Moroccan tea (by the way, if you're not so fond of sugar, ask if they'll serve the sugar separately). Hello, dear. Marrakech counts plenty of rooftop bars, so you can have enough fun. Highly recommended: Cafe Clock that resides in a former school, just outside the medina. And it even gets better! On Sunday afternoon there are sunset concerts, just imagine that!
> Cafe Clock, 224 Derb Chtouka, Kasbah, Marrakech, Morocco
Jardin Majorelle: that beautiful botanical garden in Marrakech
Jardin Majorelle, or Majorelle Garden, the botanical garden that French painter Jacques Majorelle created in 1924 at his spacious 'villa Bou-Saf-Saf', full of exotic plants from all over the world. A few years later, in 1931, architect Paul Sinoir was allowed to build a cobalt blue studio. When Majorelle died in the early 1960s, the garden fell into disrepair. The rescuing hands came from designer Yves Saint Laurent and his Pierre Bergé, who bought Jardin Majorelle in 1980 and made a big improvement. Jardin Majorelle is a public garden; in the main house, you will find the Berber Museum with traditional clothing, jewellery and other characteristic items.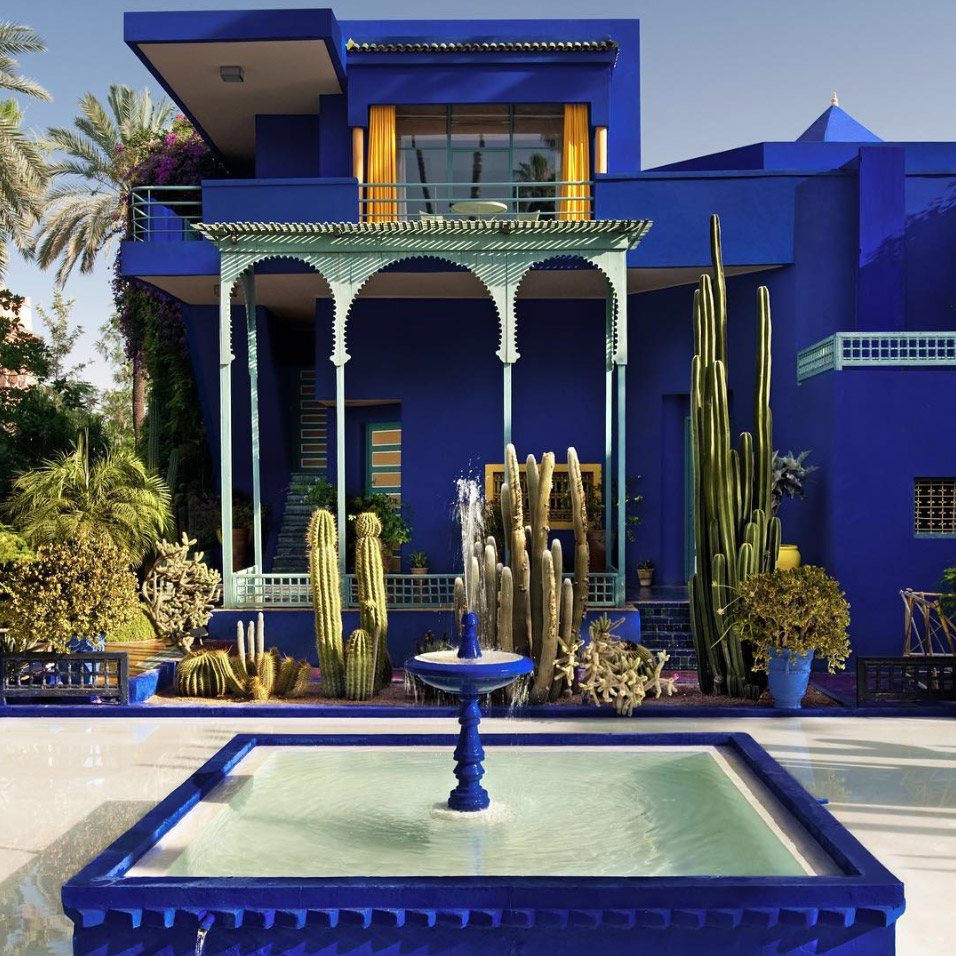 > Jardin Majorelle, Rue Yves St Laurent, Marrakech Morocco
Tip: also visit the Yves Saint Laurent Museum, just one hundred metres from Jardin Majorelle. It is one of our favourite museums and art galleries in Marrakech.
Djemaa el Fna in Marrakech
In the category of tips for Marrakech: Djemaa el Fnaa, the liveliest square in Marrakech, in the heart of the medina. As dawn sets in, musicians, percussionists, vendors, soothsayers, storytellers, henna tattoos and belly dancers come and go. A spectacle that, once in Marrakech, you must have experienced. This can also be done from the sidelines: look for one of the many cafes on the square, take a chair on one of the terraces and voilà. During the day there is a market at Djemaa el Fna. Handcarts full of dates, nuts, dried figs and authentic Moroccan stuff that you don't necessarily need, but you do want. From the square, you can immediately roll into the souks.
> Djemaa el Fna, Marrakech Morocco
Calèche: discover Marrakech by horse and cart
So much more fun (and more photogenic, mind you) than a hop-on-hop-off bus: Marrakech can be discovered in an emerald green carriage. This is called a Calèche, the French translation for the same creature. There are several hop-on places where you can find calèches lined up to be be used. Djemaa el Fna, the Koutoubia mosque and Jardin Majorelle are three of them. A calèche can accommodate four to five people. Before you mount one, it is advisable to negotiate about the price that has to be paid for the ride. Prices vary enormously and it depends on how good you are at negotiating and how badly the driver wants to take you with him. Take it for granted if you pay a little too much. The people who take you from A to B, live off it.
Palace of Bahia in Marrakech
If you like beautiful architecture, Morocco is an excellent place to be. One of the many architectural masterpieces, a Moroccan masterpiece, is the palace of Bahia: an eight-hectare palace that dates from the 19th century and you can visit it during your city trip to Marrakech. An eight-hectare palace is indeed quite something. Bahia has one hundred and fifty rooms that adjoin the courtyards and lush palace gardens. It is magnificent with meters high ceilings, doors and frames of handmade wood carvings and colourful mosaics. If you go there early, you can avoid the bustle and capture the palace on camera in relative peace – without facial pollution in the form of mass tourism.
> Palace of Bahia, Avenue Imam El Ghazali, Marrakech Morocco
Ben Youssef Medersa
Or Ben Joesoef Madrassa. Or Ben Youssef Madrasa. Whatever spelling you prefer, it is an old Koran school that was founded in the 14th century by the Moroccan monarch Abu el Hassan and housed nine hundred students with an interest in theology and law. In 1960 it was given a new purpose, that of a museum. At the end of the nineties, Ben Youssef Medersa was given a major facelift. Since then, it has been a popular attraction for those who visit Marrakech. Completely understandable, because it is breath-taking. It starts with the bronze door opening at the entrance, which is embellished with artistic engravings of cedar wood and mosaic. Details are there in abundance. A good setting for an extensive photo session, we figured. Around the corner, you'll find the Ali Ben Youssef Mosque, the largest mosque in Marrakech. That definitely provides you with a bit to see as well.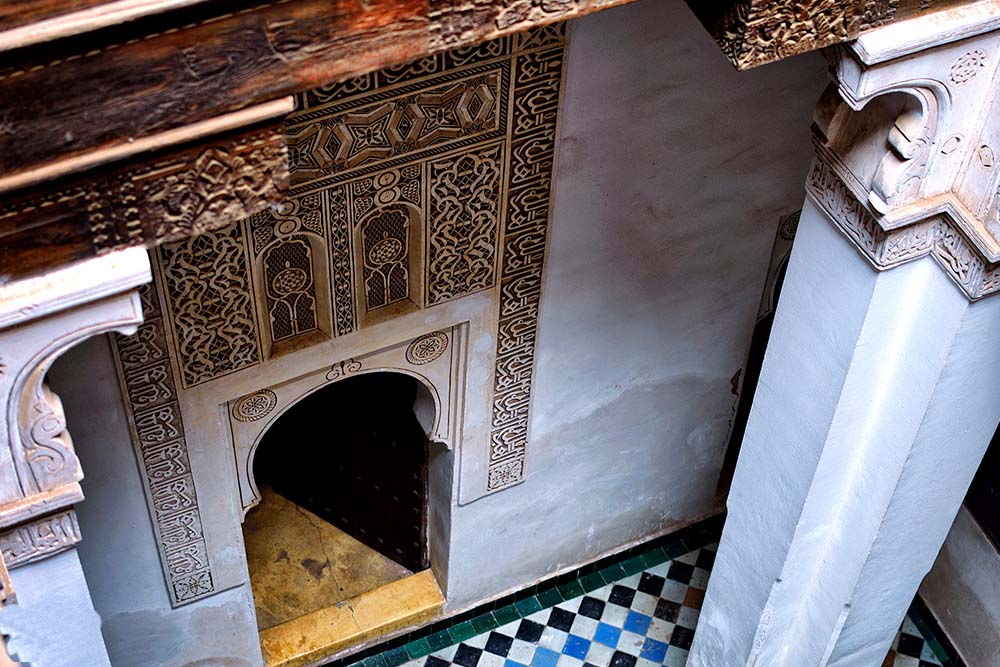 > Ben Youssef Medersa, Rue Assouel, Marrakech Morocco