When heading to Lagos, Nigeria, it's good to keep in mind that traffic in Lagos is legendary. You're going to an exciting yet enormous concrete jungle with chaotically choked roads where helpful road signs ray in absence. A proper Lagosian traffic jam is long and unrelenting. First piece of advice for the traveler: take your time.
Second, it's good to know that there are three main areas dividing Lagos. There is the mainland, there is Lagos Island and there is Victoria Island. On the mainland you'll find business centers, universities and neighborhoods where the working-class resides. On Lagos Island, the heart, you'll find a few embassies, some chic hotels and Ikoyi, an elite suburb. Then there is Victoria Island, the wealthiest area of Lagos. Trough bridges all areas are connected.
Having that said. Let's introduce designer Adebayo Oke-Lawel, founder of Orange Culture (the Nigerian menswear label you'd like to know), who was willing to take us on a little tour through his Lagos. Where to go and what to do in Lagos: what addresses would he recommend?
Hans and Rene
'The best ice cream you'll find in Lagos. Plus, they have great macarons and beautiful architecture.'
> Hans and Rene, Victoria Island, Lagos Nigeria
Noir Lagos
'If you're looking for fine dining, this is the place to visit. (The steak is amazing!)'
> Noir Lagos, Victoria Island, Lagos Nigeria, noir.live
Shiro
'Amazing Japanese food and the option of a beautiful beach view while you sip on a delicious cocktail. Shiro is definitely the spot; at night the music gets really good. For a great night out: Hard Rock Cafe is in the same compound.'
> Shiro, Victoria Island, Lagos Nigeria, shiro-pan-asian-restaurant.business.site
Temple Muse
'When you'd like to shop the best high-end Nigerian brands – including Orange Culture – and beautiful home adornments while you drink champagne, go to Temple Muse. They also throw amazing parties, mind you.'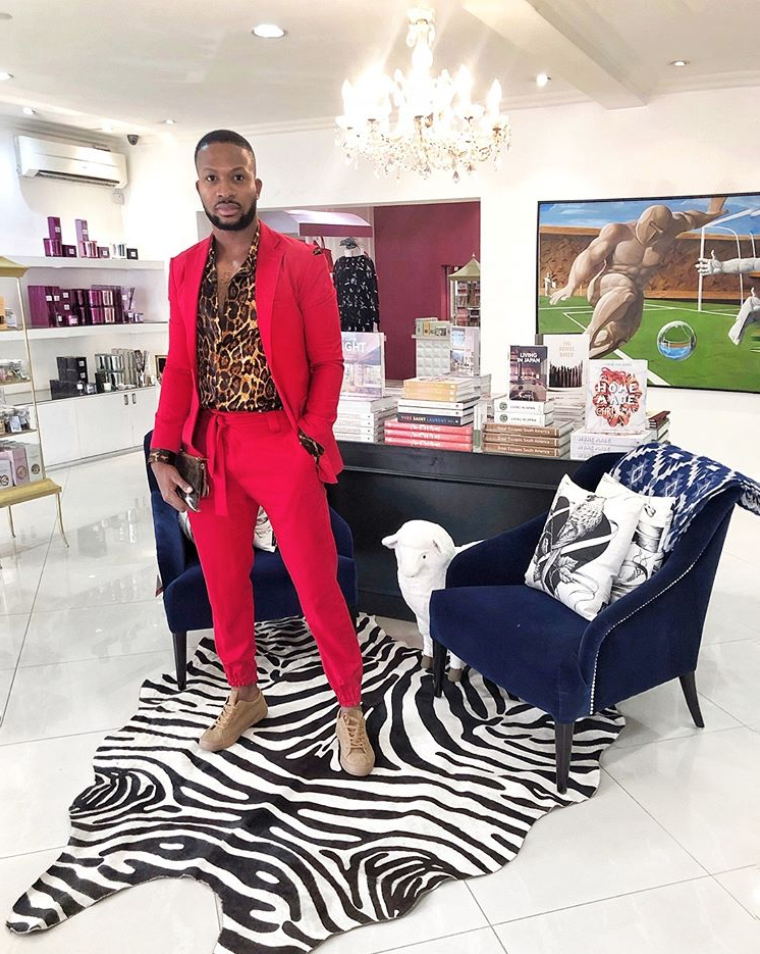 > Temple Muse, Victoria Island, Lagos Nigeria, temple-muse.com
The George Hotel
'If you're fond of hotels boutique style, like myself, George is the one for you. Stunning rooms and great customer service. Ask for Ivan and tell him I sent you.'
> The George Hotel, Ikoyi, Lagos Nigeria, thegeorgelagos.com
Bogobiri House
'For great spoken word, live music and delicious food you stop by Bogobiri. Enjoy a rich artistic Afrocentric experience. You can also stay for the night – it's a hotel, too.'
> Bogobiri House, Ikoyi, Lagos Nigeria, bogobiri.com
Lekki Conservation Center
'Try the longest canopy walk of Africa and enjoy a nice picnic outside during dry season. Stay hydrated and bring your camera to capture this wonderful experience.'
> Lekki Conservation Center, Lekki, Lagos Nigeria, ncfnigeria.org
La Campagne Tropicana
'La Campagne Tropicana is the best place to escape the chaos of Lagos. Amazing beach resort with numerous activities (canoeing, horse riding, aqua-aerobics and hiking, to name a few). Also available: great food and chalets if you'd like to stay the night.'
> La Campagne Tropicana, Ibeju-Lekki, Lagos Nigeria, lacampagnetropicana.com
NOK by Alara
'If you want to enjoy Nigerian food in a beautiful architectural space with great vibes, stop by NOK. Especially during the weekends when there are deejays and bands.'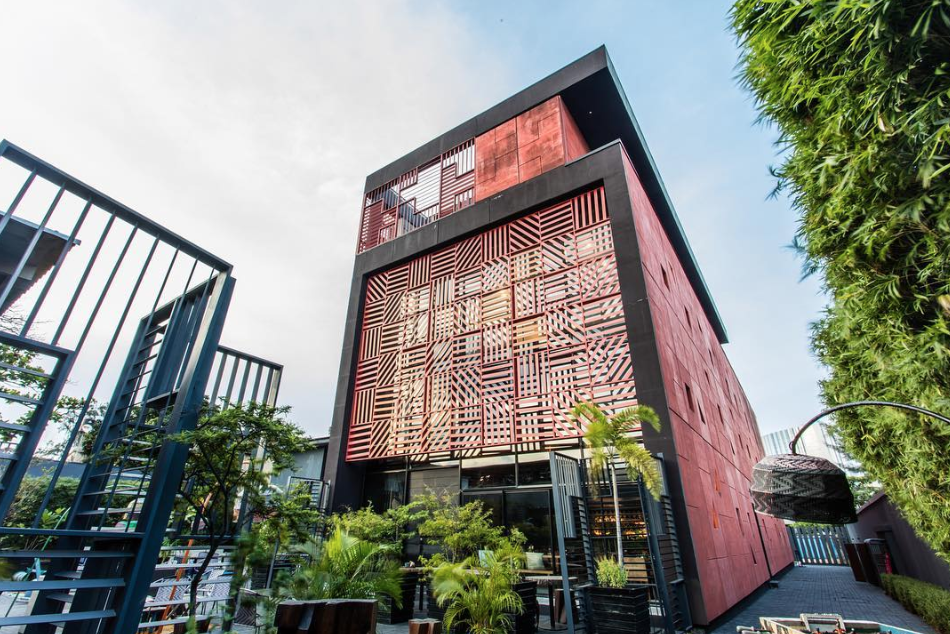 > NOK by Alara, Victoria Island, Lagos Nigeria, nokbyalara.com
Burg.co
'The best burger bar in Lagos, hands down!'
> Burg.co, Ikeja, Lagos Nigeria, instagram.com/burg.co
Bel Fiore
'If you're in Lagos and in need of skin care or anything cosmetic, go to Bel Fiore for a quick peel or vitamin injections with the amazing Dr Uju Rapu.'
> Bel Fiore, Lekki Phase I, Lagos Nigeria, belfioreng.com
Bnatural Spa
'For super facials, manicures, pedicures and relaxing massages swing by Bnatural Spa on Victoria Island.'
> Bnatural Spa, Victoria Island, Lagos Nigeria, bnaturalmedspa.com
Bukka Hut
'If you want to try delicious Suya for the first time, try it at Bukka Hut, where you will find bukka styled (cheap) food. Ideal for when you're in Lagos longer than a few days and have no interest in cooking.'
> Bukka Hut, on several places in Lagos Nigeria, bukkahut.com
Nike Art Gallery
'The most legendary art galleries of them all. Founded by Mama Nike, queen of Adire. Catch a lot of art (the place is enormous) and beautiful Adire. And have lovely conversations with Mama Nike about art and culture. It is truly an experience.'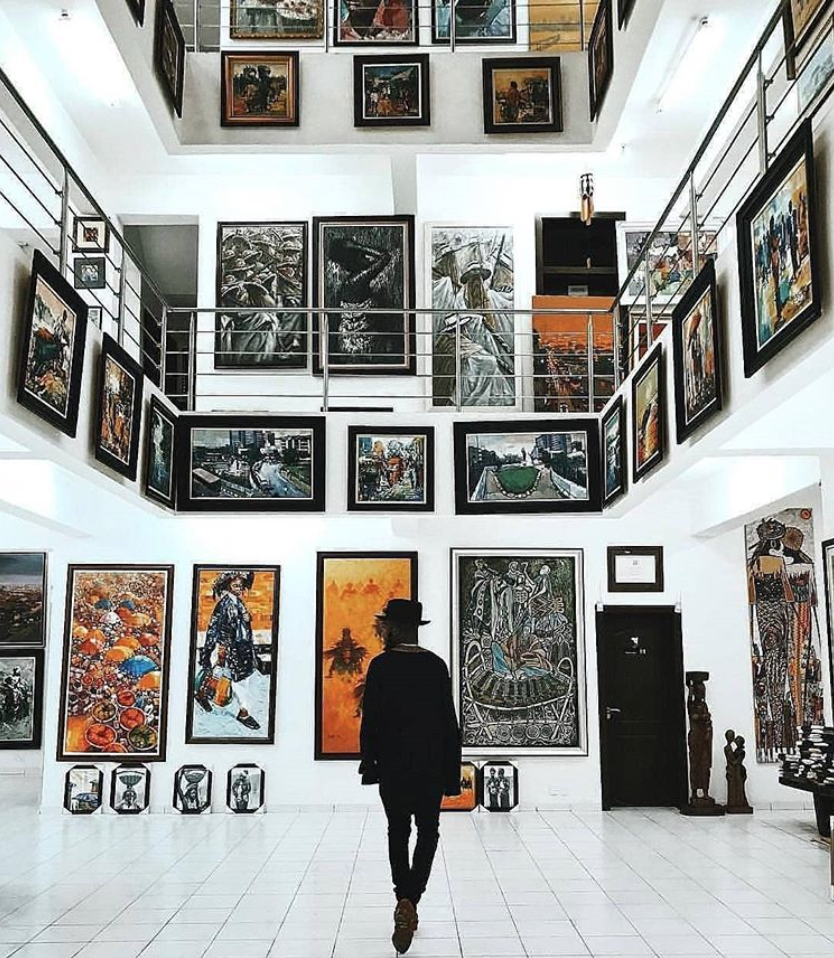 > Nike Art Gallery, Lekki, Lagos Nigeria, nikeart.com
Re Le Gallery
'Discover Nigerian contemporary art at its best at Re Le.'
> Re Le Gallery, Onikan, Lagos Nigeria, rele.co
Bay Lounge
'Enjoy a soft breeze outdoors, while drinking cocktails, eating Suya and enjoying a beautiful view.'
> Bay Lounge, Lekki Phase 1, Lagos Nigeria
Prince Ebeano Supermarket
'If you're in need of groceries while you're in Lagos, stop by Ebeano Supermarket.'
> Prince Ebeano Supermarket, on several places in Lagos Nigeria, princeebeano.com
Shaunz Bar
'Karaoke, karaoke, karaoke!'
> Shaunz Bar, Victoria Island, Lagos Nigeria, shaunzbar.com