Waddling, wading and catching waves on a sunny day at South Africa's Boulders Beach, a crowded, charismatic colony of African penguins (Spheniscus demersus) know now other life than one that's close to the ocean and a life-long companion. The colony is a bark and growl of conversations, and here or there a penguin interrupts with a loud donkey-like shout (braying). Somewhere in the fish-scented crowd menacing and ambitious bachelors would dare start trouble by wooing another penguin's partner. It's obvious that every penguin desire's companionship but with 14, 700 breeding pairs left globally, their survival is severely threatened.
How many African penguins are left?
The African penguin is classified as endangered by the IUCN Red List of Threatened Species in 2005 and listed under Appendix II of the CITES (Convention on International Trade of Endangered Species), the African penguin population has drastically declined in the last few decades. In the 1920's it was estimated that there were one million breeding pairs, in 2001 it was estimated that numbers had declined to 56, 000 breeding pairs and in 2021 only 14,700 breeding pairs were recorded with approximately 4,300 pairs in Namibia and 10,400 pairs in South Africa. Confined to southern Africa's waters, African penguins are native to the Namibian and South African coastlines (and can be found as far as Mozambique), making them the only penguins to call Africa home. Globally, they are one of three penguin species identified by the IUCN Penguin Specialist Group as requiring urgent conservation intervention.
Recognizing African penguins
African penguins are white at the front of their necks, have a white belly, are black on their backs and have a black strip that curves above their white belly and down the sides of their body towards their black webbed feet. They also have a black mask around their faces with pink patches above their eyes. The pink patches are glands that help with heat regulation. Excess salt from drinking sea water is also dispelled by a very salty sneeze. They have a black bill and short tails. Acting as ID's, each African penguin has a distinct pattern of black dots on their bellies and each pattern is unique to a penguin.
Where does the African penguin live?
African penguins are flightless birds adapted to flying in the marine environment with modified flippers for swimming and heavy bones for diving. These marine birds are exquisite pursuit divers that prey on fish and squid. They are also known as the Jackass Penguin due to their loud braying. These penguins prefer sandy or rocky coastal habitats and offshore islands with little vegetation as breeding sites. In Namibia African penguins can be found in a cluster of rocks and islands along the coast, namely Hollambird Island, Penguin Island and Possession Island. On the other hand, South Africa's penguins can also be found on mainland sites, namely Stony Point and, Boulders Beach. Sixteen island sites support the rest of the South African population, with 10 island sites being in the Western Cape province and 6 in the Eastern Cape province. These sites support close to 80% of the global African penguin population and can be found in Dassen Island, St Croix Island, Robben Island, Bird Island, Dyer Island and Boulders beach.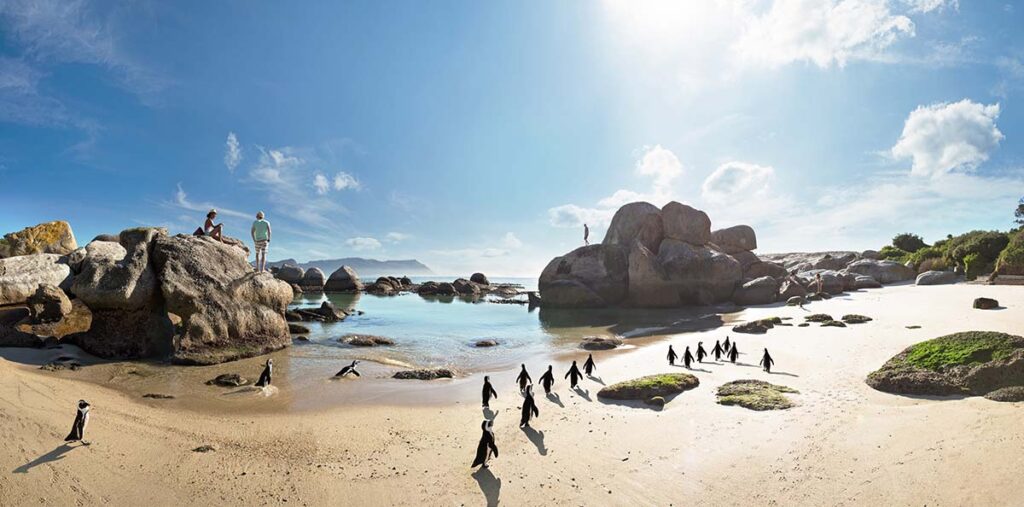 The making of an island into a home
Monogamy is the philosophy of African penguins. A penguin will breed with one partner until it passes away, unless breeding with that partner fails. Breeding normally occurs on partially vegetated, sandy and rocky coastal areas. Historically, before the interruption of anthropogenic interests, African penguins would create nests in layers of guano (the accumulated excrement of seabirds and bats) that was found in these habitats. As time passed the commercial exploitation of guano disrupted breeding habits and forced the African penguin to find alternative nesting places. To-date African penguins can be found creating burrows in sandy soil, depressions under boulders and vegetation, as well as using man-made nests and crevices as nests. With the lack of guano, African penguins have become innovative by using shells, feathers, seaweed, coastal vegetation and even bones for making nests, while avoiding areas with direct exposure to the sun.
Breeding
The breeding period for African penguins in South Africa is from March to May, and in Namibia between November and December, with one to two eggs produced per breeding pair. The eggs are then incubated by both parents for a 38 – 41 day period. During this period one parent will incubate the egg/s in a pouch while the other forages and hunts for food. Eggs tend to hatch two days apart and chicks are brooded for two weeks until they can independently keep themselves warm. While chicks are guarded by parents for a month, they depend on their parents for food for three months after hatching.
As African penguin chicks and adults continue to grow, they undergo a vulnerable and energy taxing moulting process to replace their feathers. This process is essential in ensuring that they remain waterproof and warm in cold waters. For African penguin chicks the first moult occurs 14 days after they hatch, the second 40-60 days after hatching and then 70-80 days after hatching. The chicks then leave their colony to wander on their own in the ocean, returning home to their exact nests after 12 – 22 months to moult once again.
To prepare for the moulting period African penguin adults will gain up to 31% of their normal body weight to create fat reserves. As they moult, which may take up to 18 days, African penguins do not feed on anything, leaving them vulnerable to starvation if the process takes longer than normal. After moulting the penguins will replace their lost fat by spending six weeks at sea munching on seafood. This normally happens before the onset of the breeding period.
Ecological Importance of African penguins
The functioning of island's and colony's ecosystem, as well as adjacent marine ecosystems are influenced by the presence of African penguins. African penguins transfer large amounts of nutrients from the ocean to the colony and improve access to food, through herding, to other marine species. African penguins are also food to important top predators such as sharks and seals.

Why are African penguin endangered? Ongoing threats to colonies
Historically, African penguins relied on guano for nesting. In the 1800s and 1900s people along the coast collected African penguin eggs and guano. The activities impacted how many chicks hatched in a colony and how penguins prepared for breeding. African penguin habitats were disturbed, which meant that breeding happened under stressful and non-ideal conditions. Thankfully these activities are not allowed anymore but their impact resonates today.
Unfortunately, the deadly human touch will always exist in perpetuation the vulnerability of many species on Earth. Threats to African penguins include extreme weather events due to a changing climate. Storm surges and floods may result in eggs and chicks getting lost. Extreme heat may result in adults abandoning their nests which leaves eggs vulnerable to predators. Due to extreme weather events chicks are also vulnerable to hyper- and hypo-thermia.
While oil and gas exploration has contributed significantly to climate change, it is sadly the very industry responsible for oil spills which have also depleted African penguins. While rehabilitation is possible, penguins suffer with long-term physiological damage from consuming oil which impacts the birds breeding and survival abilities.
Tourists may also disturb African penguin habitats or accidently kill them in parking lots at colony sites. Other threats to African penguins include predation of chicks and adults, reduced food availability around colonies and competition with other marine species such as seals for food and space.
How to save the African penguins
Considering the story of the African penguin and its population decline over the decades, there are many organisations and individuals working tirelessly to conserve these marine birds. In South Africa breeding sites are protected in the form of National Parks, local nature reserves or through other relevant authorities.
Watching penguins clumsily fall over their webbed feet as they navigate themselves on land brings many individuals happiness. So, here is what you can do to support the Africa's only happy feet, the African Penguin:
Donate to SANCCOB (South African Foundation for the Conservation of Coastal Birds) and/or adopt an penguin at SANCCOB;
Donate to Dyer Island Conservation Trust;
Support businesses that donate to penguin rehabilitation such as Waddle on Socks;
Eat consciously – consider eating sustainably by avoiding seafood that is on the WWF SASSI Red list;
Visit the Two Oceans Aquarium in Cape Town, Bay World in Gqeberha (formely Port Elizabeth) or uShaka Marine World in Durban to learn more about them with out the risk of disturbing their habitats;
Share this article to raise awareness.
Discover the stories of other endangered species.