Visiting South Africa for the first time? Then the Garden Route is an absolute must do. But when is the best time of the year to travel to South Africa, how many days should you spend there and which sights and highlights should not be missed? Good preparation is half the battle: so let the anticipation begin!
About the Garden Route
The Garden Route is one of the best-known routes of South Africa. The route leads you right through diverse vegetation and along a breath-taking coastline. There is some controversy about the exact start and end point of the route, but it is safe to say that it runs roughly from Mossel Bay to Port Elizabeth.
Garden Route from Cape Town
Do you want to start the Garden Route from Cape Town? Of course you can! The city on its own is already a destination where you can easily spend several weeks, so you should make sure you plan some extra days to spend in this amazing area! Enjoy the exciting city life in Cape Town and the delicious wine at Stellenbosch, then follow the R44, which will take you to Gordons Bay, Pringle Bay and Bettys Bay. This road winds along the ocean and the Kogelberg Nature Reserve, it is also known as the Clarence Drive. With its enchanting views and picturesque port towns, this Drive is definitely just as good as Chapman's Peak Drive.
Garden Route Map
How long is the Garden Route and what are the distances?
The Garden Route from Port Elizabeth (Eastern Cape) to Mossel Bay (Western Cape) counts over seven hundred kilometres. From Cape Town to Mussel Bay it is about 390 kilometres.
View the map:
Using the map below you can make an estimate of the distances. The route from Cape Town, including the Clarence Drive is also indicated on the map, as well as the tips, sights and highlights that Explore Africa thinks you shouldn't miss!
What is the best travel time?
The best period to visit the Garden Route – or South Africa as a whole – is December to March. At that time, it is summer in South Africa, which makes it the ideal sunny destination during the winter in Europe. However, keep in mind that in December schools in South Africa have summer holidays and many South African families travel to the coast. Some planning might, therefore, be useful: book your accommodation in advance. During the high season, from December to mid-January, prices are often a little higher.
How many days do you need for the Garden Route?
That all depends on yourself! Can you effortlessly drive a few hundred kilometres in one go? Then you will be able to cover more than seven hundred kilometres in one week, but keep in mind that then you will have to spend time in the car every day. We would argue that it's nice not to have to look at your watch when you're on holiday. So take your time and try to take three weeks off; at least two weeks for the Garden Route and a few days for Cape Town.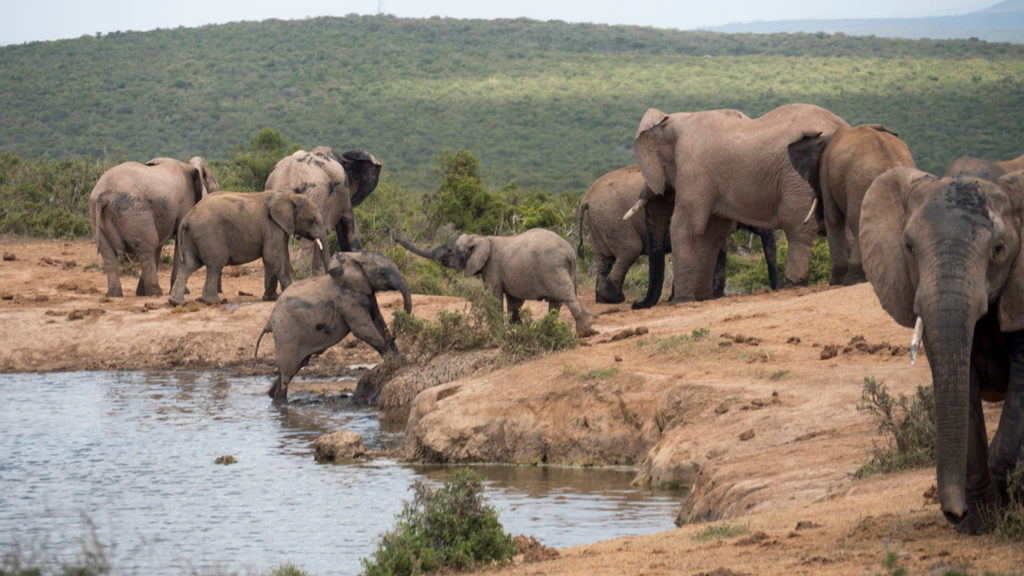 Garden route: activities, tips and must see's
Highlights fall or stand with personal preference. That's why we will give you a brief overview with sights and tips, taking Cape Town as the starting point of the trip and Port Elizabeth as the final destination:
White Shark Cage Diving near Cape Town (Gans Bay)
Do you want to dive with white sharks in Cape Town? You can choose to do this in Cape Town itself, but there are also many tour operators that offer a white shark cage diving day trip from Cape Town to Gans Bay, the 'White Shark Capital of the World'.
The official starting point of the Garden Route: Mossel Bay! The town is not particularly beautiful, but two kilometres from the harbour you'll find Seal Island, which is home to five thousand seals. Impressive!
Knysna is known for its overwhelming green splendour, but is unfortunately currently still recovering from a forest fire. From the Knysna Heads, you can enjoy an astonishing view of the lagoon.
Plettenberg Bay, or 'Plett', is somewhat touristy, but that absolutely makes sense; green mountains, white beaches and crystal blue water. What more could you ask for?
Tsitsikamma National Park
From Garden Route National Park, the N2 leads you right through Tsitsikamma National park. In Tsitsikamma there are many opportunities for adventure sports, such as zip-lining, bungee jumping and kayaking; but of course you can also just go there for a brisk walk.
'J-Bay' is known as one of the best surfing spots in Africa. The Super Tubes in surfing paradise Jeffreys Bay are the annual setting for the J-Bay Open (World Surf League). The village has a relaxed atmosphere and for water sports enthusiasts staying here is highly recommended.
Spotting wildlife is done in Addo Elephant Park, the third largest wildlife park in South Africa. The Big 9 can be found here as the park extends all the way to the coast, where you can even spot whales and white sharks.