Are you going on vacation to Zanzibar? We think it's the perfect destination: you won't just find all the peace and quiet you need, the island is also surprisingly versatile.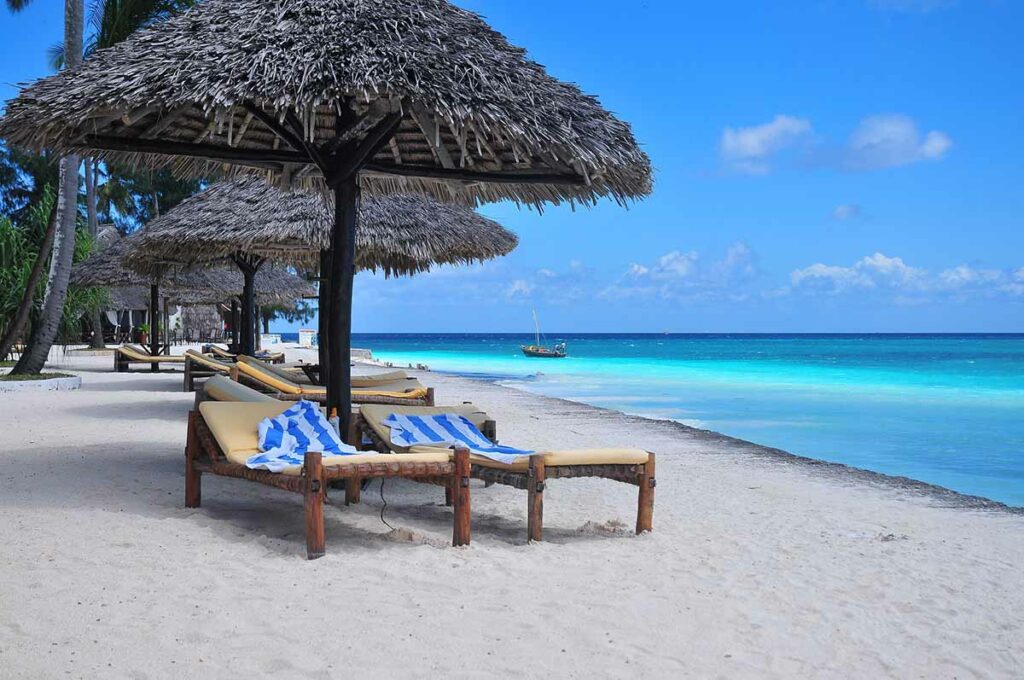 Why go to Zanzibar?
What makes Zanzibar (Tanzania) an excellent vacation spot? We'll tell you! If the snow-white beaches and the bright blue water of the Indian Ocean aren't enough to convince you, you'll find some more good reasons below.
Spectacular activities, historical treasures and paradise for foodies
You like the beach, but you don't want to sit still the whole time? Zanzibar is a perfect destination for water sports. You can go kite surfing, wind surfing and wave surfing. Or you can go snorkeling or diving, to discover the colorful marine life. Do you prefer fishing for your own dinner? Then the so-called 'big game' fishing is perfect for you.
Also make sure to discover the historical and culinary side of the island. We certainly recommend a visit to the capital of Zanzibar. Stone Town is a world heritage site, and its Arabic, Persian, Indian and European influences make it completely unique. And we're not just talking about its beautiful, historical architecture: you will also find those influences in the local cuisine.
Zanzibar is also commonly known as 'Spice Island', because of the spices that grow everywhere. All this spicy abundance is used in the kitchen: the food is a mixture of Middle Eastern and Indian dishes. Add some fresh fish to that, and you'll never want to go home again.
Curious about what other activities this idyllic destination has to offer? Make sure to read What to do on Zanzibar?
Weather on Zanzibar
Are you going on vacation to Zanzibar in January or February? Then you should prepare for pleasant, summery temperatures. Zanzibar is the place to be if you want to get some sun in winter, because our winter months are the warmest months on the island. The minimum temperature is 22 degrees and the maximum temperature is 33 degrees Celsius.
But January and February aren't the only good months for a vacation here. Zanzibar doesn't have four seasons; it only has two. The wet and dry season. Most of the rain falls in April and May. Still, going on vacation to Zanzibar during these months is not a bad idea. This is the low season, which means that accommodation costs less, and generally speaking the sun shines all year round on Zanzibar. Even during the two wet seasons. After a serious rain shower the sky will clear and the sun will come out.
Why does Zanzibar have two wet seasons?
Zanzibar has a monsoon climate. Because of its location, the island is impacted by both the north-eastern and the south-western monsoons. This results in two wet seasons, a long one and a 'short' one, and two dry seasons. January and February is the short dry season. The first wet season is from March to May, and the longer dry season is from June to November. The rain comes back in November and December.
As a sidenote: the seasons can vary. Due to climate change, the pattern we described appears to be shifting. Sometimes there will be no rain at all, and sometimes it comes unexpectedly.
What's the deal with Zanzibar and corona?
The borders of Tanzania have remained open for tourists during the entire corona crisis. However, all travelers over the age of 5 must show a negative RT-PCR test upon entry, even if they are fully vaccinated. The test may not be older than 72 hours and quick tests are not allowed. You must fill in a health declaration for Zanzibar no more than 24 hours before your arrival.
Please note: these measures may change. So don't rely fully on this information and make sure to check the recent measures in Tanzania and your own country before your departure as well as your return.
Read more about staying in Dhow Palace: Where time has stood still for five hundred years.