When you think of Africa, you immediately think of savannas, rainforests and deserts. What could be more fun in those deserts than to whiz down those high dunes at full speed? Call it sandboarding or sandsurfing; in any case, we are certainly fans! From Morocco to South Africa, here's our list of the best sandboarding spots in Africa.
Namibia: the sandboarding capital
NAMIBIA – Just a few kilometers from the Namibian coastal town of Swakopmund are the very best dunes for boarding. The perfect dune, the so-called star dune, is about eleven kilometers from the city. Although it is sometimes a few kilometers closer because the sand moves with the wind. The dune is over a hundred meters high and has the world record for fastest sand ski session at no less than 92 kilometers per hour. Alter-Action set up the sandboarding scene here in Swakopmund. Today, the tour operator is more than happy to take enthusiastic tourists into the dunes to go boarding.
South Africa: north and east of Cape Town
SOUTH AFRICA – There are two spots for sandboarding around Cape Town. You will find them both less than an hour's drive from the city. North of the city are the pearly white Atlantis Dunes. It is worth visiting the dunes for the beautiful pictures alone, but this place is also perfect for sandboarding. With both higher and smaller dunes, there is something for everyone's level.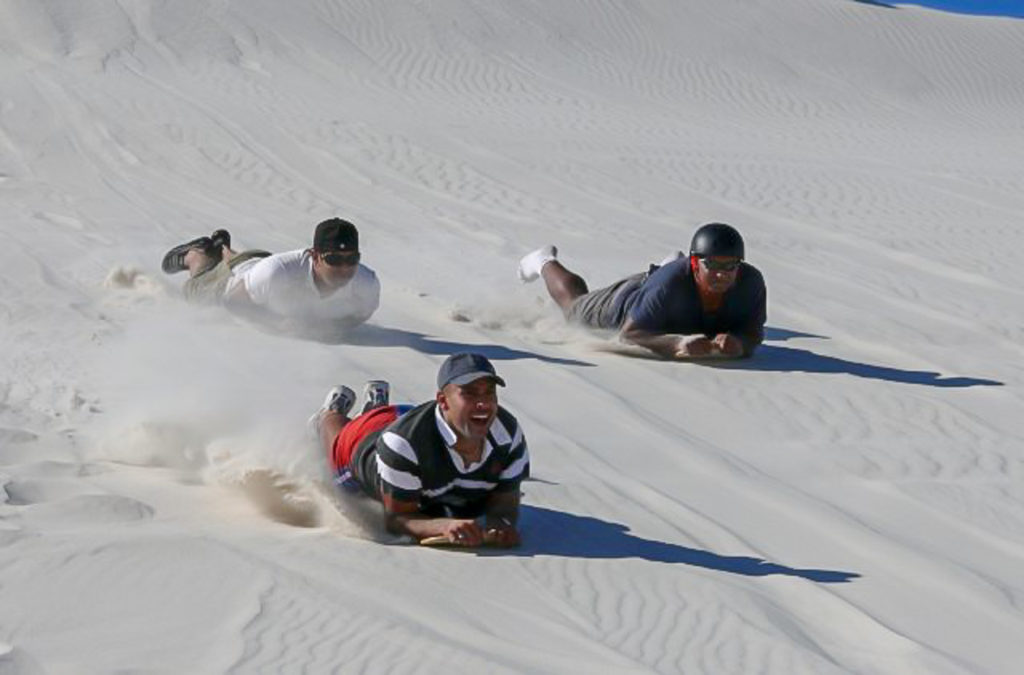 East of Cape Town, in Betty's Bay, is a 230-meter high dune that many pro-boarders call the best in Africa. A bonus: due to its enormous height, the dune also has a very long way down, which makes your board sessions last considerably longer than on other dunes. Sandboarding Capetown organizes tours to both dunes with equipment and transport.
Egypt: sandboarding heaven in the sea of sand
EGYPT – Also in Egypt there are two excellent places to tackle the dunes. The Great Sand Sea of Siwa is about an hour and a half from Cairo. This desert, which extends to the border with Libya, is truly sandboard heaven with dozens of dunes: high and low, steep and gradual. It is highly recommended to go with a tour, as you will go a long way into the desert. Do not forget to bring extra water for the heat: it's still a desert after all. For booking a tour we recommend Holiday tours, one of the oldest operators in Cairo.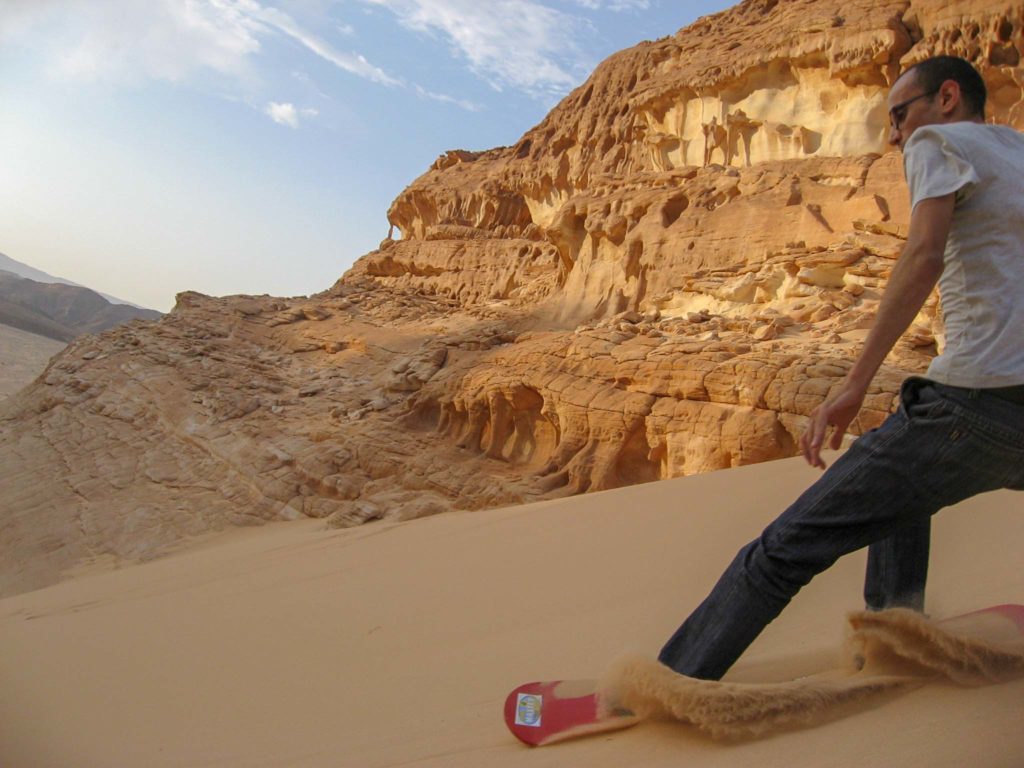 On the other side of Egypt, on the Sinaï Peninsula, there are also perfect dunes near Saint Catherine's Monastery. Sharm-el-Sheikh or diving town Dahab are both ideal bases. From both places it is about an hour and a half into the desert. Between the red-colored rock formations are the ideal dunes to board off of. Again it is recommended to do this with a tour, because the spot is located far from the main roads in the middle of the desert. There are no specific tour operators that only organize sandboarding trips here, as it is almost always combined with a visit to Saint Catherine's Monastery, or a desert safari. Ask around at your hotel, because something can always be arranged.
Morocco: the largest desert
MOROCCO – When you talk about big dunes, you can't ignore the Sahara. We top this list off with sandboarding in the Moroccan Sahara. The best starting point is the town of Merzouga, which lies on the border of the Sahara. Within minutes, you will come face to face with ideal orange dunes to whiz down from. Because the dunes change from day to day due to the wind, there is a lot of variation in the type of dunes. This makes it great for both novice and experienced boarders. We recommend having Mouhoutours, run by local Moroccans and Bedouins, take you into the desert.